April 2019: An interview with Brighton and Hove Community Radio's Susi Oddball.
Christmas 2018: 2 Months into our OOOM Project. Boxing Day 2018.
So… there I was, happily beavering away, late into the evening as any self-respecting workaholic theatre-maker is wont to do, when all of a sudden this thing called "Christmas" shows up, and out of nowhere, two small people who claimed to be "my children" also pop up, demanding presents and for me to… wait for it…. "spend time with them". I said…. "Do what!!??"
Now you're likely wondering what (on earth) is Jonathan Brown doing late on Boxing Day writing a blog for Something Underground.  Why isn't he having his Christmas holiday and relaxing with his family?
I'm sorry… that's just… not possible! Well… not this evening anyway…
Since we got our notification from Arts Council England back at end of October that we'd received the funding for our new play "Of Our Own Making", that we'd spent around 6 months applying for, I've been working so totally flat out, that frankly… Christmas? Schmistmas!
Sure, I gave the pesky kids a cursory smile, a wave, a few pistachios, mumbled a Grinch-like "Merry Whateva!" and told them to "keep out of my way" and….
 Oh alright then… I actually sorted quite a nice time for them…. but bah humbug is this year's unspoken undertone… as work… must go on!!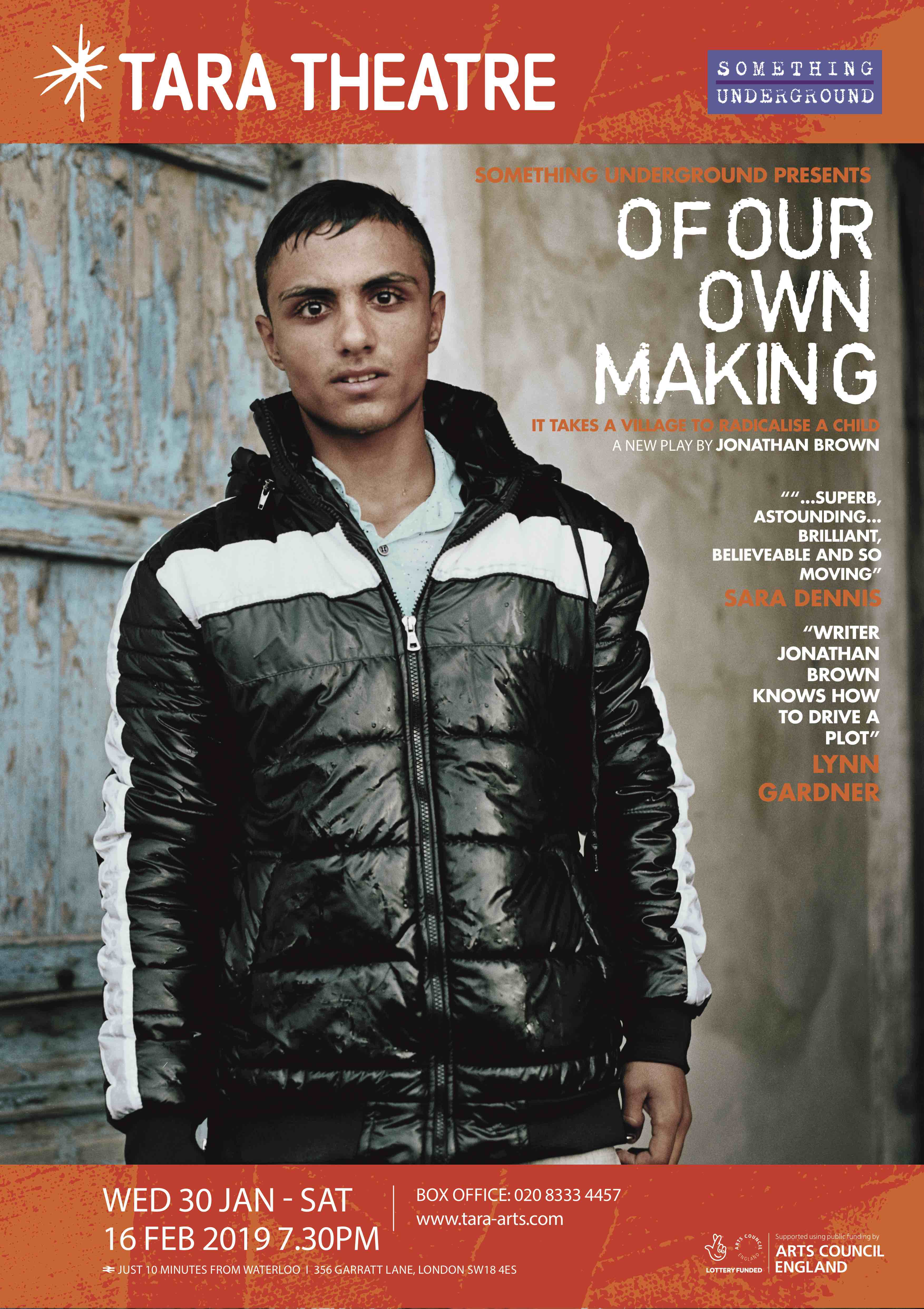 Likewise….to entitle today's blog entry "2 Months into our OOOM Project" is a complete misnomer. It's actually 2 years and 3 months we've been working on this one, and although liberal shrieks of joy echoed down my street when we got the notification of the significant funding from ACE, the truth then dawned on me…. that the work load was about to go up…. exponentially. And it has!
Now, I work in my sleep, on the loo, in the shower, over breakfast, and during Christmas. There is no rest from the looong list of jobs that need attending to… and tonight I'm completing the task of editing and rendering the projection footage that's to be used in the play during the several scenes of online grooming of the young boy whose tag is… Parsifal.
Rendering via Final Cut Pro can take hours. But you don't need to know that. All you need to know is that jobs fall between jobs. Whilst files render here, blogs get typed there, washing up happenings between emails, whilst other files upload to clouds or to drives, as teeth get brushed.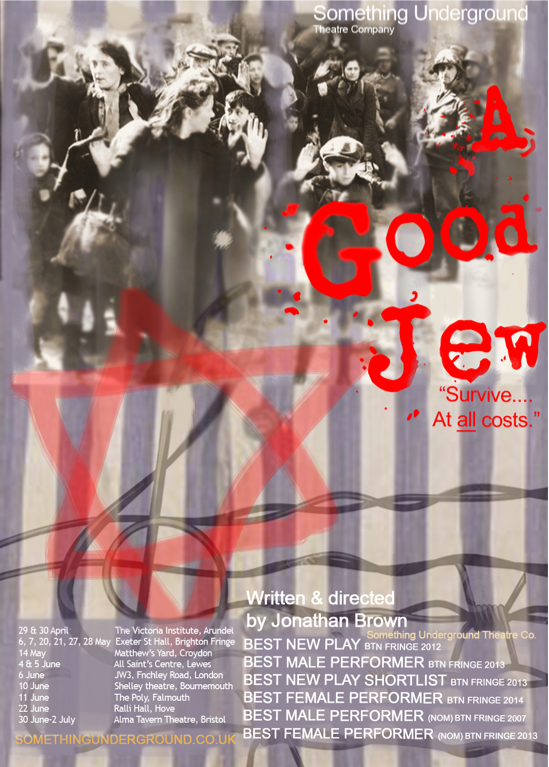 It's funny to find ourselves back at Tara Arts theatre, as 2 1/2 years ago we were programmed to play A Good Jew there for 3 weeks, on the proviso that their new building had been…. well you know… built.
The new (and award winning) building was scheduled to be finished in good time and May/June 2016 was our planned A Good Jew gig.
But Tara sits right next to the railway line from Waterloo to deepest Hampshire and (as I understand it) Network Rail was considerably iffy about a small aspect of Tara's building plans that had the slightest potential to impinge on the adjacent embankment, and hence on the rail traffic. Enough so, in fact, to halt the work for a few months, and "A Good Jew"……. got cancelled.  (we managed to play it 20 nights elsewhere however, so all was not lost.)
It so happened that a year later, Jonathan Kennedy from Tara saw an email from me, pitching "Of Our Own Making", and… he followed up early in 2018, and suggested we meet.
Since then, and 2 ACE submissions later, the OOOM project has kicked in at full tilt. Over the intervening summer, on the very night that I received the notification (on a tiny screen, in bright sunshine, on a flat festival phone battery,  through an ACE Grantium portal that is like reaching down into with a numb and too-short digit, through a deep narrow contorted finger's width tunnel) that the 1st funding bid hadn't been successful, I played Iron John at an intensely hot hot hot Buddhafield Festival. (Image @lardography)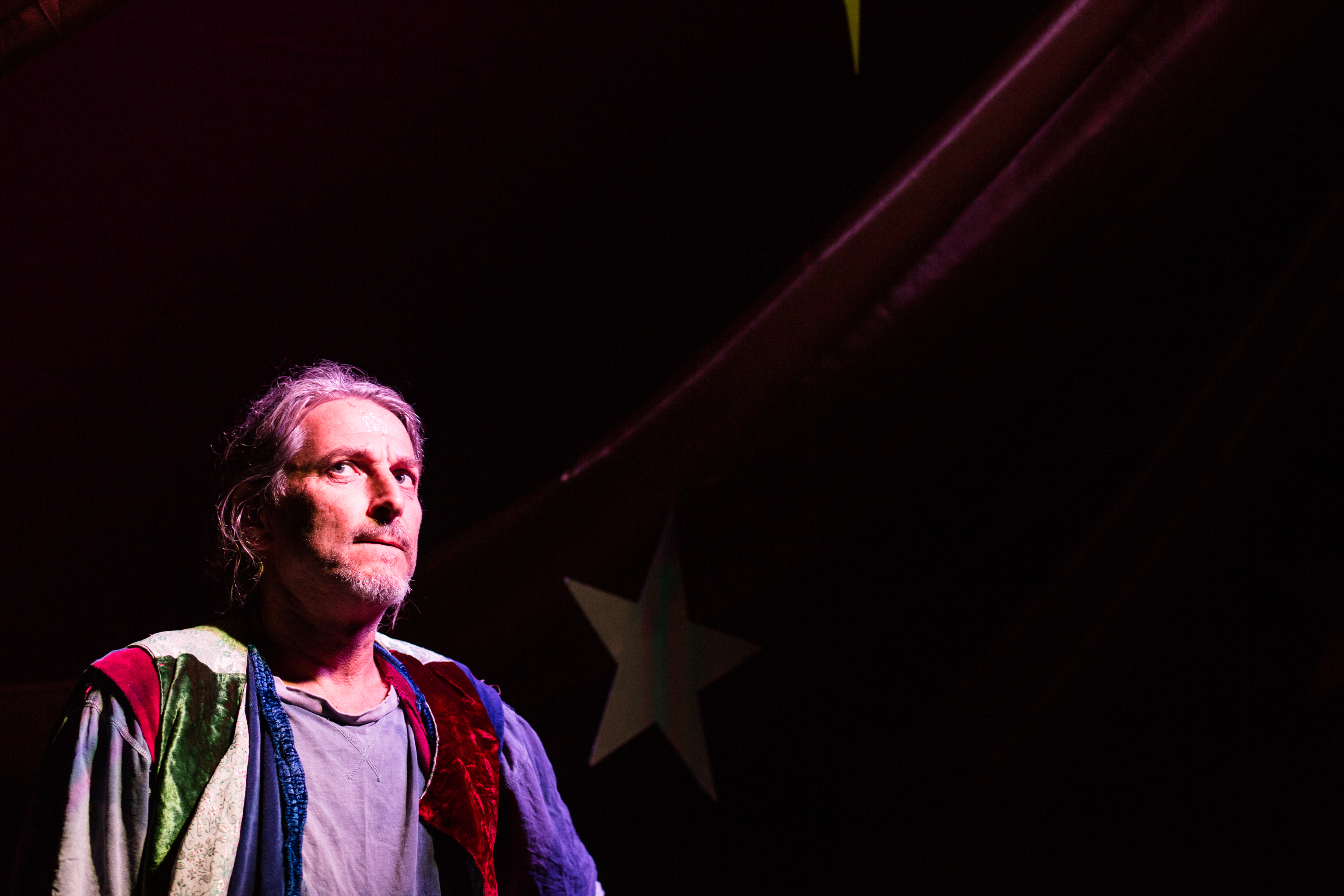 Thankfully the rendition was well received, and the heat, isolation, phone dysfunction, and commitments of the next 5 days ensured I could do little with the failed ACE submission disappointment (and another impactful one to do with my pending divorce) than let them marinade / cook in the intense dry heat. This was, in fact, a deeply helpful enforced "letting go" and cooking of my feelings.
However, as soon as I got back home, after a cursory shower,  I was back to the computer, and back to the ACE submission, re-shaping the bid to meet the hurdles it had previously fallen at.  This had to happen quickly as the window for a gig at Tara was only so wide and would likely close should the 2nd attempt be either late or fail to win ACE's hard sought dosh.
Within 9 days, I'd had many meetings in a hot hot July London, and a slew of wonderful new offers of substantial in-kind support and partnership, and  the new submission was written, edited, checked and…. sent off again!
A day later I was at another Buddhafield event ( a family friendly retreat, holding the men's space there) and within a night I had a very lucid dream that we had got the funding, and I was running around (in the dream) excitedly telling everyone. What did it mean?
Now, again, all we could do was… wait… except no… it wasn't.
In fact what we had to do was prepare… prepare in case we got it! With the projected ACE notification date likely to fall just 1 day before the necessary timeline for the project was due to begin, it was absolutely vital to ensure that all ducks were firmly in a row before we even knew if we would be successful this 2nd time.
This was a very odd time, as I was working hard on casting, advertising admin and directorial roles, prepping art work, creating promo materials, booking spaces, and more, all in the knowledge that maybe none of this 3 months of work may ever come to any fruition. It was, I admit, hard at time to keep up the confidence that all this work was worthwhile.
To keep a positive sense of "what will I do if that all goes to shit?" I taught another run of "Create Your Own One Person Show" course at The Cockpit, and began writing my ebook based on the course.  (You'll  get a link to it when I've finished it…. I've got a bloody good reason for putting it on ice!).
tick tock…. October and the CYOOPS course finished, and…. in came the 2nd  ACE notification. OOOOOOOOOOHWEEEEEEEEEEEE!!!!!!!!!
Since then… I am sleep deprived…. and headachey…. but hey… we can sleep when we're dead…. don'tcha think?
If you'd like to know a little more about the process leading up to where we've got to so far… read one of our latest Newletters here
As for me… the video footage has rendered, and I'm going to brush teeth and go to bed.
You may not hear from us again for a while, as to be honest, Blogging feels slightly like a luxury I can't afford.
Speak soon though. Happy New year.
Spring and Emerging II – And Owl Pellets – Friday 6th April 2018.
Hi Everyone. Back again after a year. And it's been… a year! …
….of great family change and break up, which has simply been… a painful time.
Now…. the bulk of the grieving over, supported so well by healthy eating, yoga, dance, supportive friends, and focussing on work and my children…. it's once again a time of renewal, and wonderful new days ahead.
In June 2016 (so long ago now!) after the end-of-run dinner out for the cast & crew of "A Good Jew" at Planet India, Hove, we wondered down to the beach to hang before we said our farewells. As we stood at the water's edge, we became a group of refugees, standing on a Libyan shore looking north over the Med, and yearning to cross. By the end of Oct 2016, the first draft of "I, Refugee" had been written.
It's been through, 13 re-drafts (some major), 4 working titles, a rehearsed reading and a 2 full showcase performances since then, and now, after much development we're setting our sails for beautifully refurbished Tara Arts, a South London venue renowned for celebrating diversity in Theatre. We're not there yet, and a great sea called ACE  Project Grants Funding application stands between us. Wish us luck.
In the short term… I'm donning the garb of The Fool again in May's Fringe to return to Exeter Street Hall, Brighton, with more of Happy Hour in London and Brighton and of The Silent Stream in Eastbourne. I took a break from the Fringe in 2017, becoming distinctly aware that it had become something of a comfort zone, and I yearned to fly the coup. Having loosened those gyves, I've flown back into the cage, perhaps more confident of knowing the door is open and that my year need even less partially revolve around Fringe timelines.
And the Fringe continues to be a good testing ground for new work, and I still see my Fool as something of a Crash Test Dummy (see below).
Although after every performance my belief that I "can do it" is reinvigorated,….. as every single time is an unknown…. i always feel quite some trepidation, uncertainty if I can "pull it off". Who knows? Do you? The unknown is such a fertile place to play.
Someone very close to me was writing (in my Creative Writing class) yesterday,… and she wholly surprised herself (as she wrote a short story, in the fist person, about a girl who's discovered she can fly)…. to discover  that she (her character) was coughing up an owl pellet. It was a small epiphany for her, blinking at what she had found within herself…. like when I discovered, under tutelage from my singing teacher, an amazing note I could sing, as a tenor. I just…. didn't know I had it in me!
I'm very much looking forward to excavating again on stage…. a sort of… archaeology of the soul.
Oooh…. I think I might use that!
See you soon. JB.
———-
Spring and Emerging – Monday 3rd April 2017.
Lewes All Saints Centre on 1st April felt like a culmination of many things. There I played my solo fooling (improvised theatre) show "You Can't Watch this Play" with wonderful musician Dave Molz and a very engaged audience. It was the last in a small run of 8 shows since December.
It's been a long time since I watched a man step onto the stage at The Rondo in Bath, have very little up his sleeve, and perform a long evening of improvised interactive, yet moving and poignant work. It was all unscripted, all off the cuff, all in the moment, funny, whilst also emotional, deep,  and at times…. edgy…with the audeince involved, sometimes deeply too. Stillness and sensitivity were given space.
But still we witnessed a play, not a dance piece.
Still we witnessed narrative, not so much a piece of performance art.
That was about 15 years ago, and I said to myself… I'd like to be able to do… that.
I still can't. I'm not that man. and I can never fully emulate his style…. But, after years of developing my talents through other forms of stage work and storytelling and improvised work…. many bits are falling into place, are added to by my own unique skills, and styles,  and I can now announce…. I've got… something.
It's a thing… definitely a thing… a way…. to bring you… worlds.
The way, the "act", is, like a tadpole transformed…. starting to gain its legs and can now walk pretty much unaided.
I've still got plenty to learn, but I feel I'm now ready to learn it "on the job".
Indeed, I can only learn many of the remaining skills on that job, and so, if you come… prepare to be a testing ground…. for new and exciting adventures.
Huge thanks to all who've supported that journey (it's hard to list them all here), and more recently… Dave Molz (wonderful pianist), Rowan Sterk (achieved percussionist), David Stephens (lights and moral support), Simon Scardanelli (Music). and all the audiences that have been integral collaborators without whom this work would fall upon deaf ears.
Trusting (Tuesday 1st November 2016)
Ok. I'm not a natural blogger. It's been what… 7 months? Oh dear. Must do better.
I heard two quotes recently… one was from a man who was a refugee in the UK. He said that if you welcome refugees here, they will love you, and the country and be deeply loyal, in their gratitude, till they die.
Another, a woman involved, spoke of the best ways to rehabilitate offenders in Britain's jails, which are struggling hugely under budget cuts. She said… the best way to make a prisoner trustworthy is to trust them. If they don't have opportunities to show they can be trusted.. then they cannot show their trustworthiness, and they lose hope, and in despair…. they've nothing to lose from re-offending.
(This was one of the tenets of Project Return, a program of rehabilitating offenders in the Louisanna area of the US, founded by my late friend, Dr Bob Roberts.)
So… when we find the Syrian crisis impacting on migration, impacting on UK people's views of migrants, and adding to a fear of being "swamped", it feels sad that we voted not, in effect, to trust.
To trust in the EU, in those who want to come and work here, and in those who genuinely seek refuge here.
Even if some harm is done, schools get busier, hospitals get busier, buses get busier… to trust that more good than bad will come, of opening ourselves to who's at the door is a way, not just to deal with international relations, but a way to, personally, go through life.
Trust is so vital to enjoying life and each other that to lose it is to lose our own lives before we've begun.
We have to step off the cliff. It's a Fool's game, but hey…
Suffice to say that to trust to committing to "A Good Jew" was…. A good plan, and all went swimmingly well.  We neeearly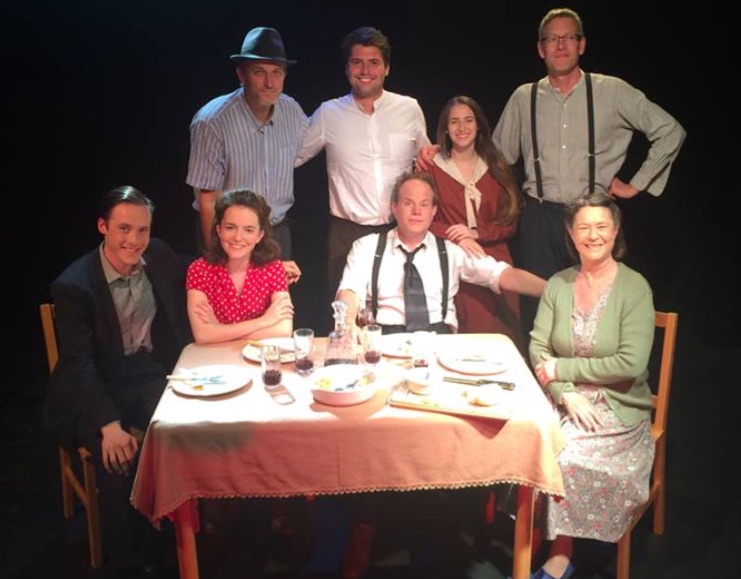 cancelled Falmouth, but in the end couldn't resist the Cornish climes, campsite, and getting completely lost round Falmouth's one way system. More seriously… it's hard to believe that a play about The Holocaust would (generally) bring such large audiences, but we trusted… and (mostly) fared much better than we dared hope for. And what a lovely cast. It's hard to put into words the unity and sense of family we co-created. Here they are now. Thanks to them all for their trust.
So what next. Well… it is tiring casting, producing, directing, acting, deeply mourning a referendum result 🙄  and wot not,… so the summer was a bit of a break, a chance to catch up on a lot of DIY, of gardening, of family time (not in that order), to visit Germany ( apologise for any jingoism they perceived from us), and a chance to research and write the latest… thing.
I felt like "A Good Jew" gave me more permission to go further into somewhere I'd as yet not got to….
"I, Refugee" (working title) might be in the region of that "somewhere".
I must admit… I'm excited.
The world landscape feels unsettling at the moment, and to transform that…. into what excites me, to create from that material… is healing. Is an act of trust.
Play with it, rather than let it play with you.
It's hard to trust… but if it wasn't…what's the value of doing so… of taking the leap of faith… into the unknown?
Sunday 27th March 2016
Hello. I've just got back from a long rehearsal of A Good Jew in Brighton, and have been welcomed home with home-made hot cross buns and chocolate. Go Annika!
Some would say it's not fair to ask a cast to come in on Easter Sunday. They're probably right. Being one of the cast, I'd definitely  prefer the director not to do it again. Although if we hadn't then Pippa wouldn't have been able to give everyone a big choccy egg each. Go Pippa!
The rehearsal went well. We did a full run through of the play, with as many of the props, costumes and sound effects as we could muster. Some of us seemed a little tired, and some of the play was a bit ropey, but hey… they're all off book (ish), we've a month to go, and it's hard to know how some of the scenes can be improved upon. It's not "in the bag" but is at least being distinctly dangled close to "the bag's" opening. Go Cast!
We also, this week had two other fabulous achievements. (i) We launched our crowdfunding campaign to help raise money to pay for the show (props, costume, travel, Accommodation, marketing) and (ii) we seem to have found our technical operator for a large chunk of our upcoming tour! That's a load off, I can tell you! Go Bernadette Ward!
So… what else to tell you about? Slowly finding most of the costume and prop items. Pippa has run up our Nazi arm bands, our SS uniforms arrived (and fit!), as have a German and a Russian trenchcoat, a Russian army hat, and a 3d-printed Luger 08. Go Prop and Costume fairies!
Moving on from "A Good Jew"…. In my last post I mentioned going to Edinburgh and I was literally moments away from registering my show "Licence" when I woke in the night and realised…. that I didn't want to be away from my family for so long! So I put the plan into mothballs for another year. 2017 may be that year. Go Family!
Lastly for now, having really enjoyed my performance of The Silent Stream at Angel House at the start of March, I've booked two more performances, one in Brighton and one in Croydon. The first is at ONCA, which is a space dedicated to environmental arts, and happens to sit on the very spot where The Prince Regent began building the sewer that he would use to control and suppress the Wellesbourne, the underground stream that flows through Brighton and which threatened his project to build the Pavilion. Thanks for the gig. Go Onca!
Actually… talking, as the first paragraph of this post did, about taking a break (or not) from rehearsals to honour a holiday, I did actually cancel last Thursday's rehearsal to honour a birthday. Mine! Go me!
(Now I just have to explain to the missus why I'm not doing the same for hers. oooh… not good. )
Monday 8th March 2016
Welcome back, if you've visited before! Hello! if you haven't.
So… last night was our first performance of The Silent Stream for about 18 months. We had a packed and super-appreciative house at the plushly restored Regency Angel House opposite the Angel statue on the Hove seafront.
Reprising a one man show takes some energy to get all the lines refreshed, get costume in place (big thanks to Gladrags in Brighton). But it's always worth it, and Stream (actors alway love to shorten or give nicknames to plays…. not sure what we'll do about "A Good Jew") has a way of catching me out, in how emotional the demands within it are. It has a lot to do with  distant fathers (something I know a little of – but don't hear that as a sob story), with disconnection with much-loved siblings, and with denied children. It's a'plenty painful at times, as well as a riot and a lark. We hope to get Stream back to Angel House again within the year. Watch this space.
And the process of arriving at and leaving Angel House made me feel the Angels were smiling upon us. Parking a long car with trailer (a lot of kit, and extra chairs needed a trailer in tow) in Brighton on a Sunday, 4 different times (there were a lot of moves to and from BUCFP where we were also rehearsing A Good Jew yesterday afternoon) needed fairies that would provide us parking spots that were two car lengths long. At each of the 4 stops the fairies delivered, and even provided us with a free left over parking ticket passed on from a departing fairy driving a 4-wheel drive. The whole event went like that, with wonderful hosting from Phill who runs Angel house; the Company, and friends all mucking in with all tasks; and from the most excellent David Stephens who flawlessly took on Technical Operation on the show. A brilliant collaboration of locals, venue and Company. Thank you, all.
A Good Jew is coming along apace. Most of the scenes are finding new depths of emotion and meaning as we pass through them time after time. There's a lot of hard work going into the making of this play, from the Company,…you're in for a profound experience. And each of the performances are filling out more each week as they find their ways into their characters. It's exciting to see how they are developing.
To dress them all, and put weapons in some of their hands, we spend some of our time between rehearsals hunting for WW2 German militaria. It's an odd world, but there's some odd stuff and some "interesting" people out there! Nuff said.
Last Monday was the inevitable Brighton Fringe brochure launch event. ….. we're on page 100 and 101, and will be at Exeter Street Hall this year.
And meanwhile, I've been continuing my process of working toward doing a show at Edinburgh this August. The venue is now confirmed, and the registration almost complete, so in theory…. I'm going! Yes, another one man piece, no, not a premier. Licence. One of my favourite pieces, but unusual for Edinburgh, as they tend to only programme 1 hr pieces, and this one's…. 2.
And lastly the course at Evolution Arts is back on from 23rd April. A summer of theatre for any of you wanting to… dig in.
Thur 18th Feb 2016
Welcome to our blog. Bear with us as we find our way into it!
2016 has opened well with a flurry of activity to cast "A Good Jew". We're nearly there, with just Freddy / Karl to cast.
Many have asked me why I wrote A Good Jew. What brought me to it? My relationship to The Holocaust is complex, starting not in history lessons at school (as I gave up history at school at age 14) but with visiting Houston Holocaust Museum, Texas. This experience had a deep impact, which was further added to by reading ("If This Is a Man", by  Italian Jewish writer Primo Levi; Schindler's List, The Reader) and by films (Schindler's List, The Pianist, Boy in the Striped Pyjamas, Life is Beautiful, Sophie's choice, Marathon Man) and by visits to The Imperial War Museum, to The Jewish Museums in Frankfurt, and in Aschaffenberg, and listening to stories about expropriation of Jewish property in Bavarian villages from members of my German family. Between them, I have been drawn into the horror of human behaviour in extreme conditions and been brought face-to-face with the sentiment "But, for the grace of god, go I".
The story, as refugees flood across Europe, the far right rises, and the European experiment is faltering,  also has immense echoes for our time.
In the meantime, rehearsals have started, and we've done extremely well in just 4 rehearsals. The play is already taking shape. We've a hard working and sensitive cast. You'll love them I'm sure.
The play has already brought about some synchronicitous happenings. In Lewes Library recently I found a great book about Theresienstadt concentration camp, where A Good Jew concludes. The very next night I was at a friend's housewarming, and got chatting to a woman. After a few sentences we discovered we both had an interest in the Camp, and then it transpired she was Ruth Thompson, the  writer of the very book I had borrowed the day before! I was very glad to be prompted by her to attend the Holocaust Memorial Commemorations in January at Lewes Town Hall, and there I met many lovely people, including Tim Locke whose parents came across on the Kindertransport, and whose grandparents were sent to Terezin, and did not survive.
———-
Meanwhile, re-learning lines…  28 solid pages of lines, no less, is part of the work of reprising my one man piece The Silent Stream. Learning lines is not my favourite thing to do, i must admit, but learnt they must be if I am not to stand there on stage and just open and close my mouth and nothing come out this coming 6th March. This blog is my latest procrastination! To help me I've been using my new smart phone!! (inherited from my tec savvy recently-deceased mum) to learn lines, and one recording felt good enough to share… so you'll find it on The Silent Stream page. Thanks to my mum for enabling that! She was a keen local historian, and told me of the Woodingdean Well which is the inspiration for The Well, of which The Silent Stream is a prequel. NB: Talking of underground water… The Silent Stream is of course, partly about The Prince Regent and his Pavilion, but also about The Wellesbourne that he diverted so that he could build.
My mother's death in May 2015 may have also released a little fairy-help, which might be able to take me and a show to Edinburgh in 2016. This is uncertain, but finger's crossed.
In the meantime, I might be back in June and July running my acting classes again at Evolution Arts, in Brighton…. depending on sign-up numbers. Apparently there was a flurry of interest the day after the course was cancelled due to low take up, and EA are keen not to let that happen again.
So… it's off to another rehearsal tonight. Deep thanks to Brighton Unemployed Centre, Families Project for in-kind rehearsal space help. We're deeply indebted to you.
JB