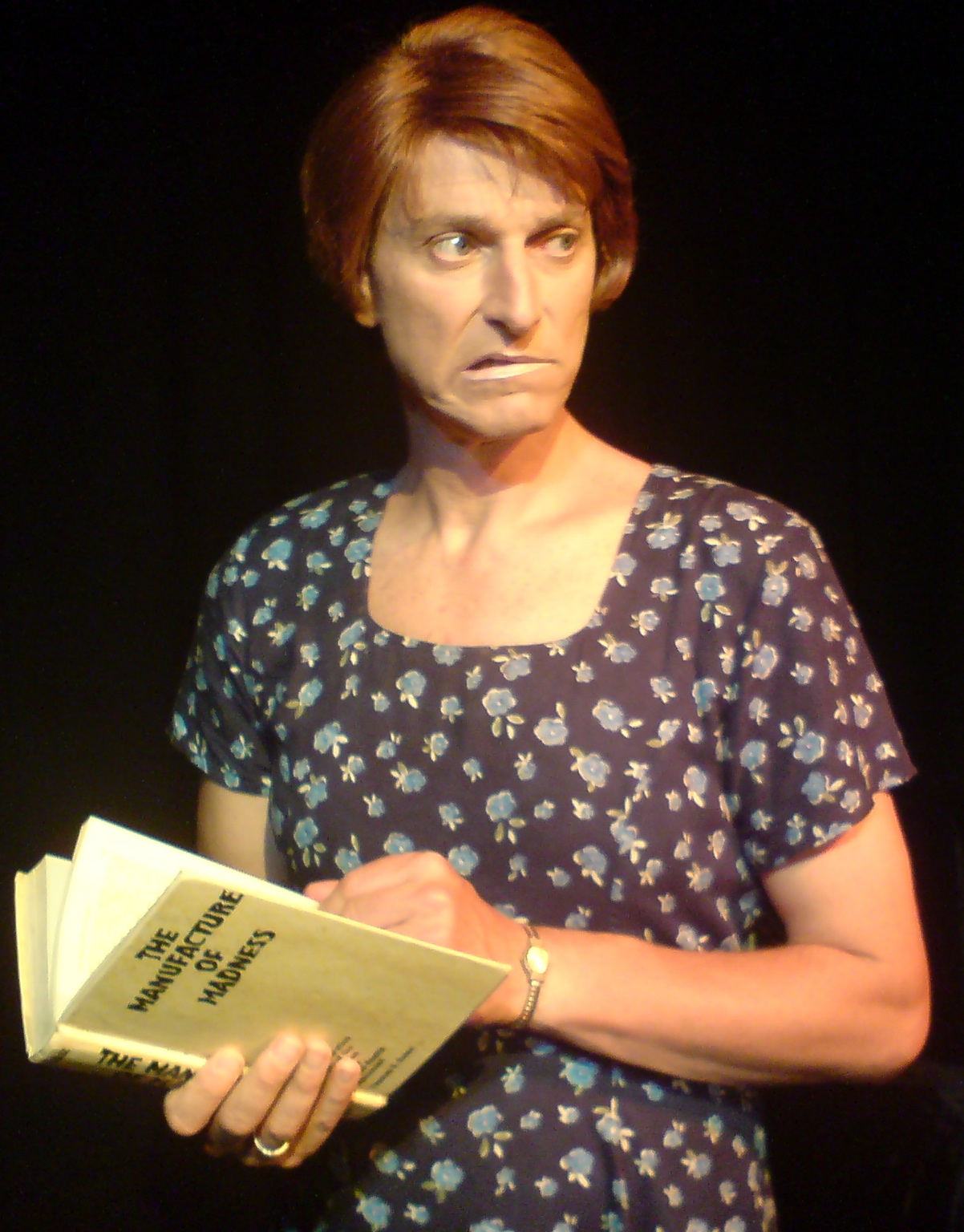 Find your borrowers card to join  Jenny, a full-blooded librarian, playing family court judges and illiterate lovers to find honour and realistic literary heroes in a world gone large print and trash-romance mad. Dubious sanity, uncertain identity intertwine with wit, humour, rage… and love.
"…beautifully performed & exquisitely written….funny in the right places & thought provoking throughout…..a huge writing & acting talent at work – one of the stand-out nights of the Brighton Fringe" Nick Stockman. Brighton Fringe Manager 2007
Jenny's a Brightonian 40-something librarian.
Lacking much of a love life herself, and having split up with her ex, she watches people use the library to enhance their fantasy love lives or develop their internet relationships. Then she meets young Billy, starts a physical relationship, helps him with his "reading".
Under the jolly exterior we begin to see that this mixed-up person is fighting with the blackest parts of her soul, and not always winning, either the fight, or our sympathy.
But Jenny is …"unusual", and is fighting a legal battle for access to her own child, Timothy.
Despite being denied access by the courts, with the help of falling youth library-attendance figures, Jenny turns to her ability to take on any personality she chooses to engineer an innocent encounter with her son, to tell him what lies in her heart.
The ingenious plan, using Shakespearean mistaken gender identity, requires more wit than even she had expected to employ, and enables a veritable host of new and surprising relationships to open up for her. Not least… with herself.
Pic by Pete Gioconda
Written and performed by Jonathan Brown
Winner: Best New Play Award, New writing South 2012  (The Last Lunch).
Shortlisted: Best New Play Award, New writing South 2013 (The Silent Stream)
Winner: Best Male Performer, Brighton Fringe 2013 (The Silent Stream)
Nominated: Best Male Performer,  Brighton Fringe 2007 (Large Print Trash)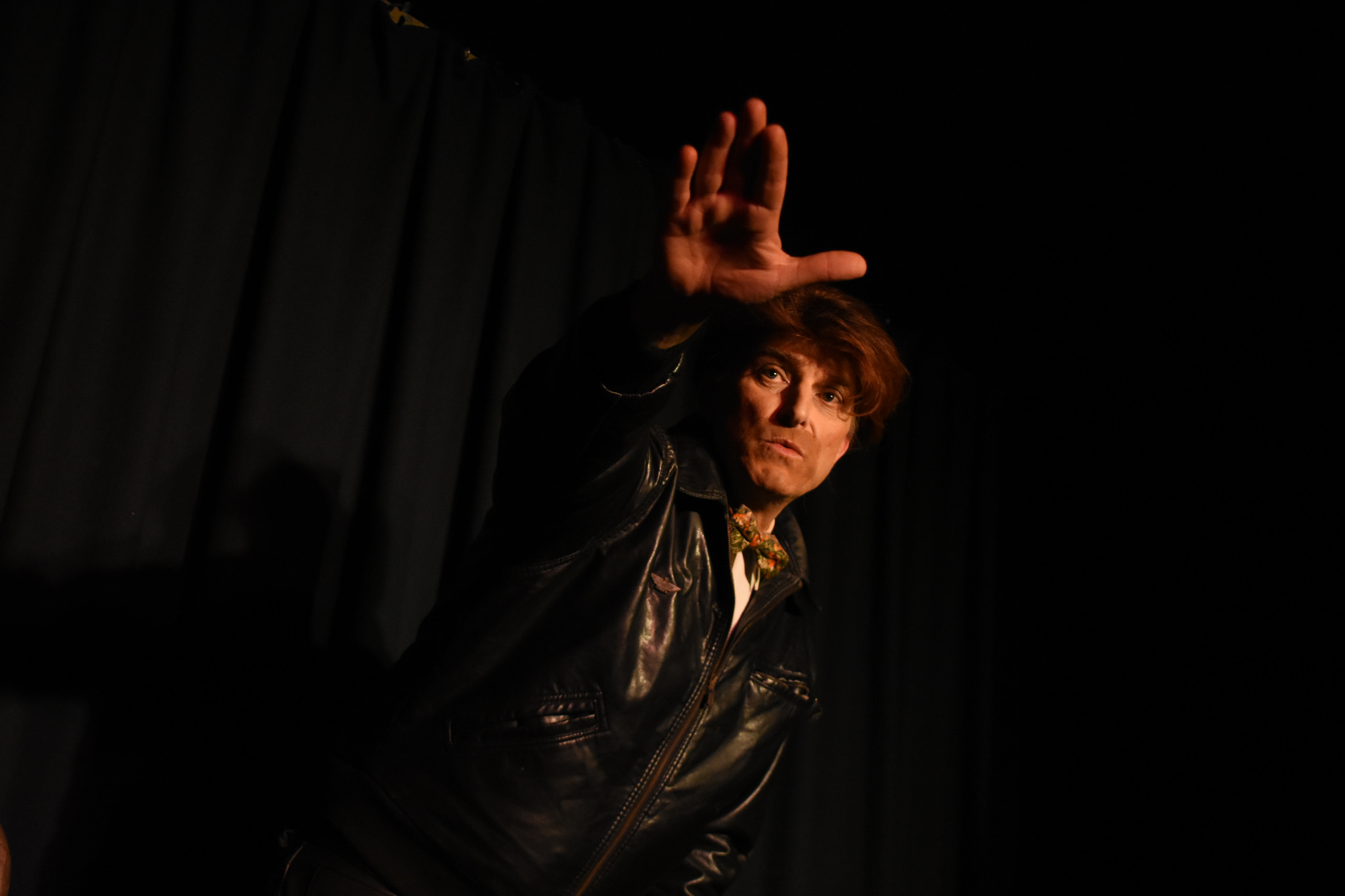 All further Pics by Peter Williams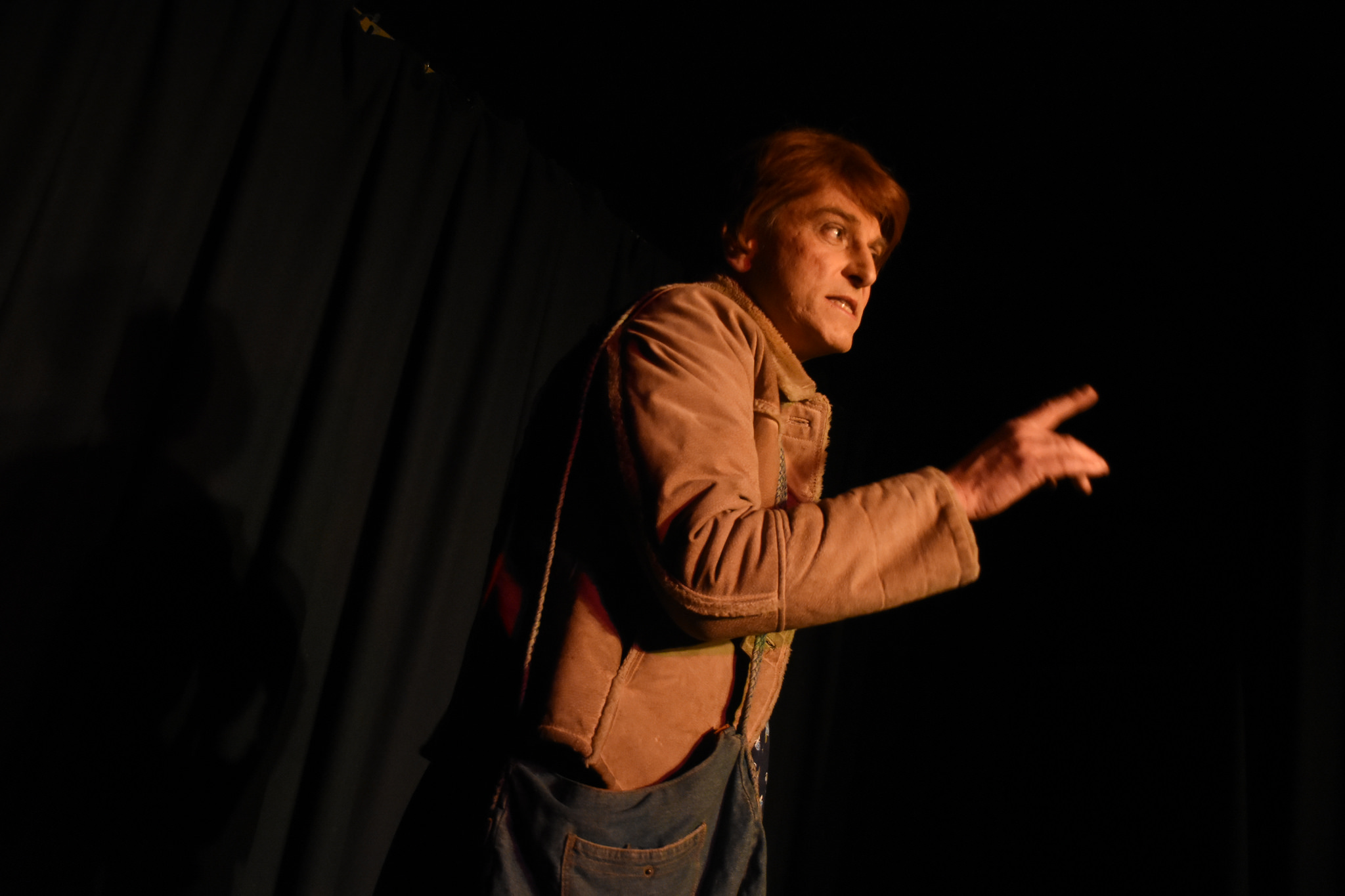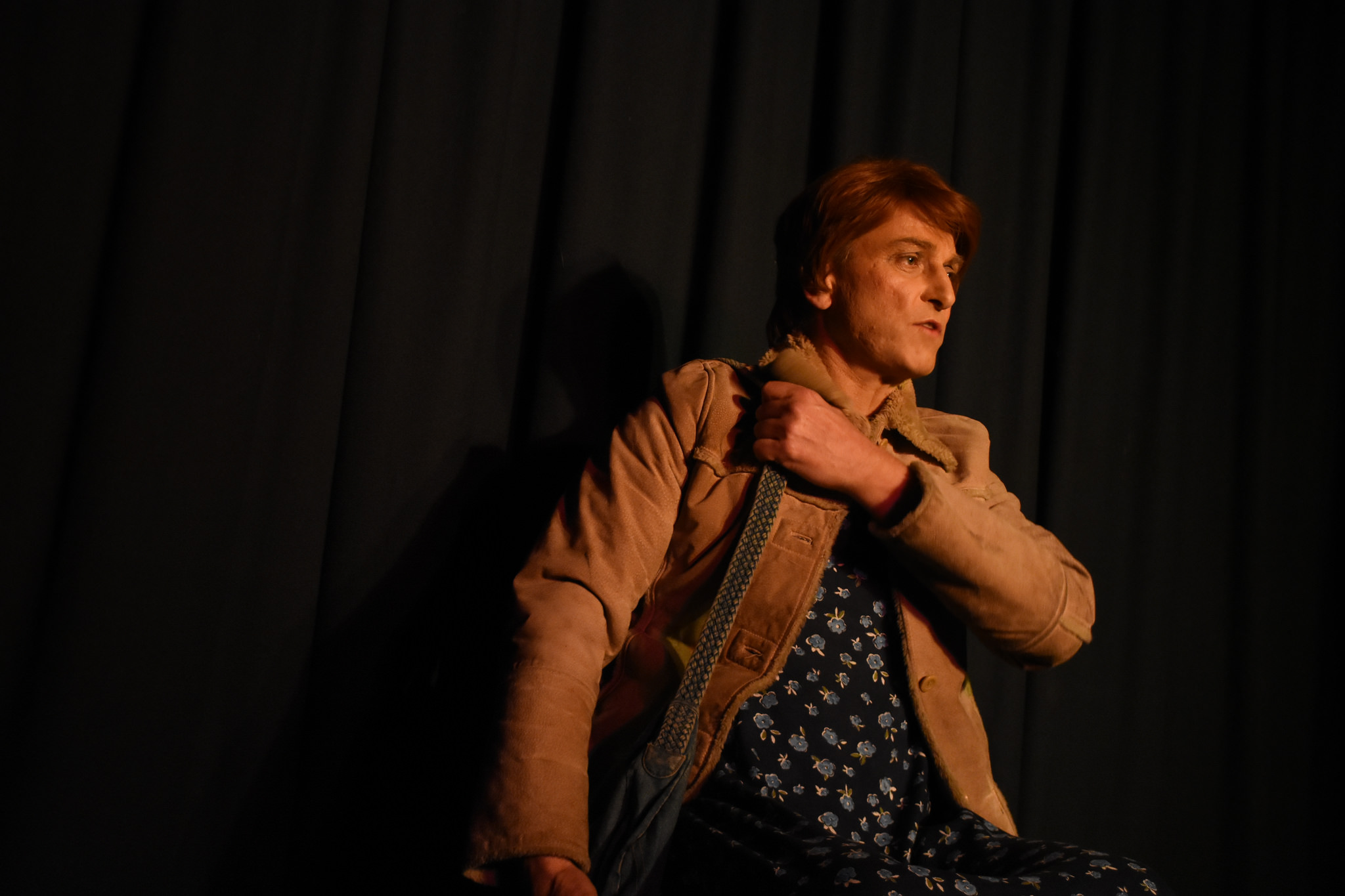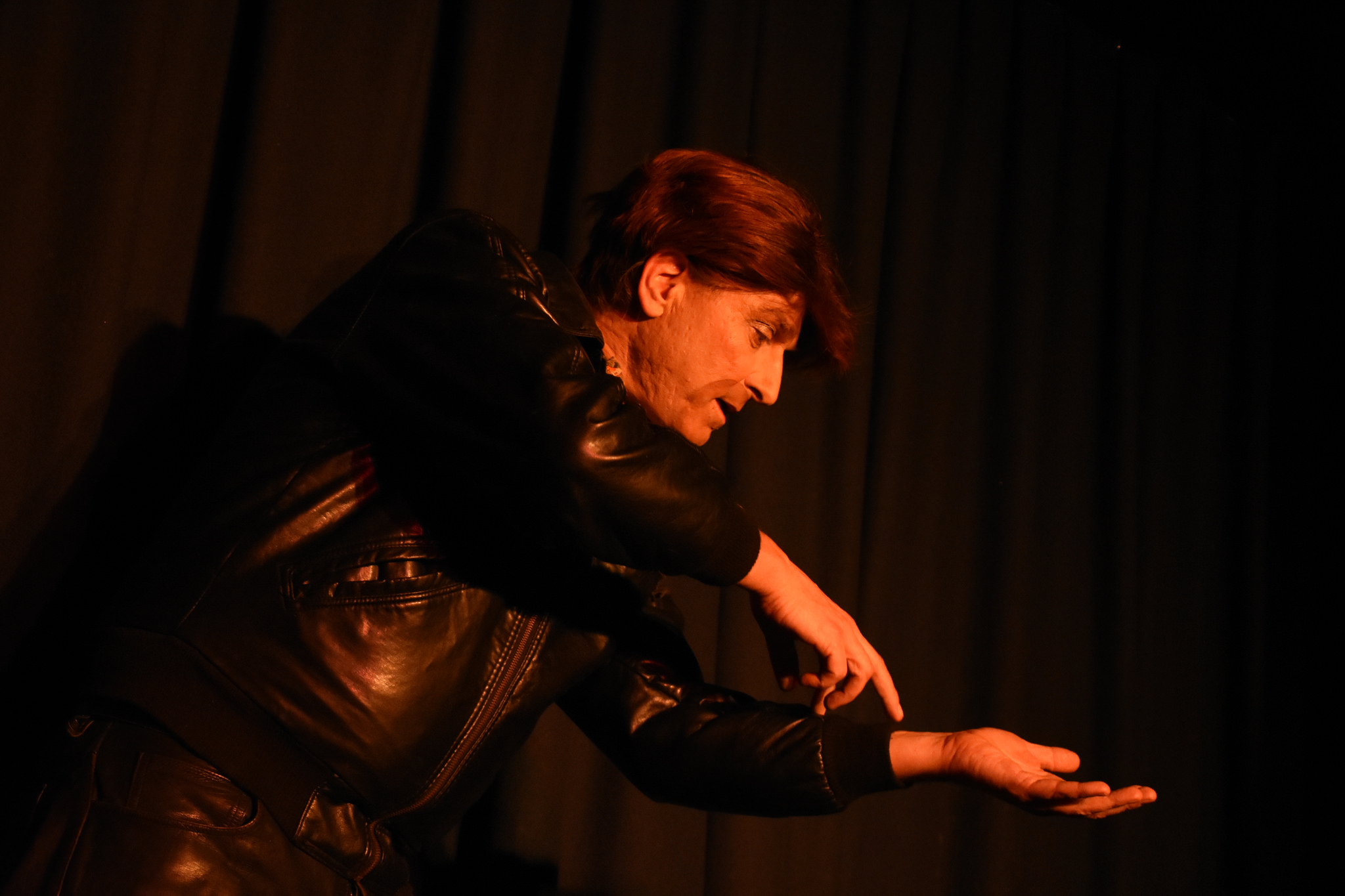 Directed by Olly and Kirsty Hurd-Thomas.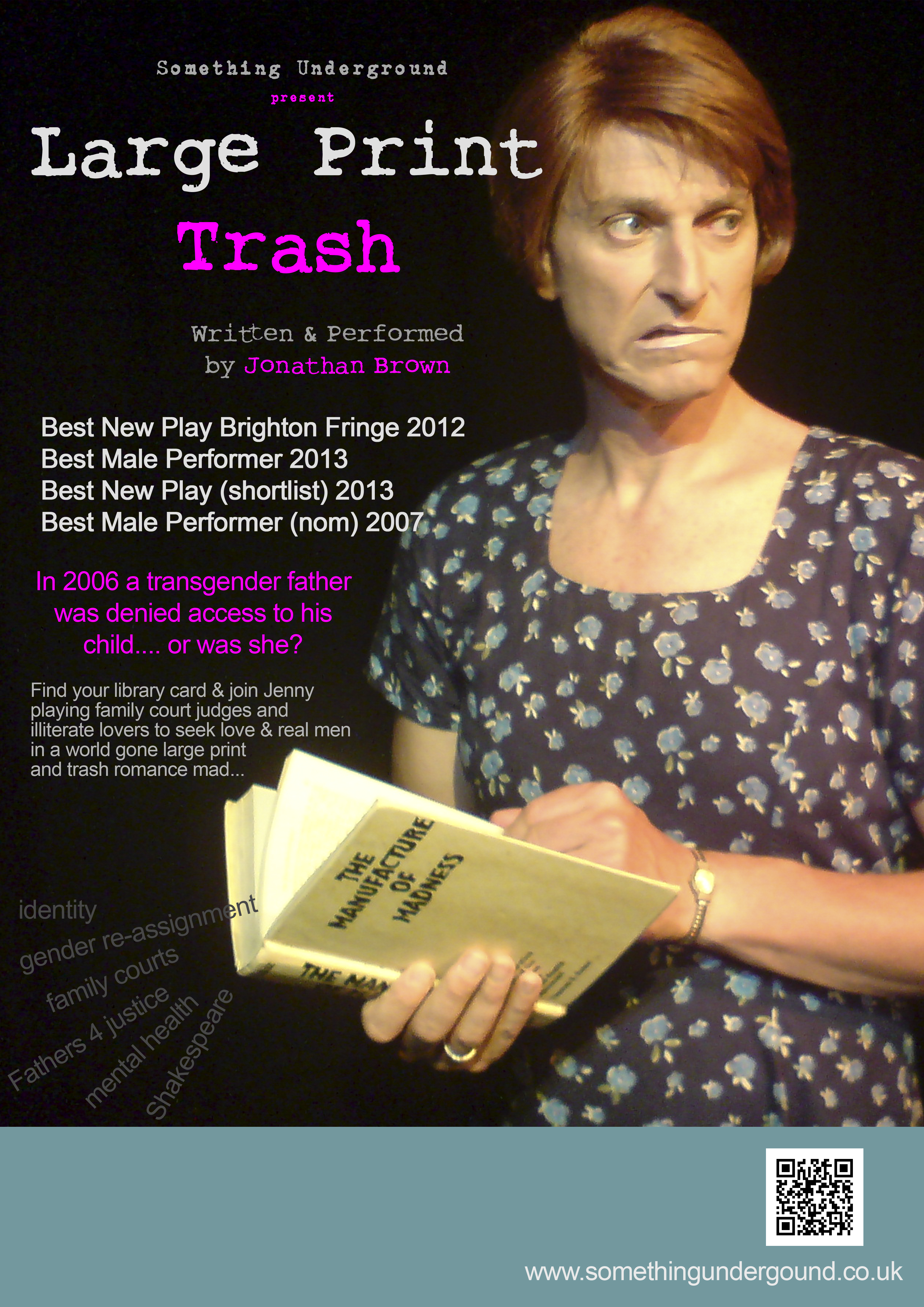 "….completely convincing.
…an elaborate gender-bending plot to put things right.
Brown is a fine writer and actor,
and these are funny, carefully observed character studies." The Scotsman.

"I daresay Jonathan surpassed himself last
night. He changed characters faster than I 
could follow – a fireworks of story lines, 
dialogues that Radio 4 would be proud to 
present, and all done with impeccable 
acting. Bravo JB. Beware. Audiences will
gobble you up." 
Marco Koppenhagen, Musician, singer
songwriter, father.