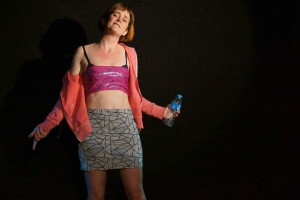 This is a SUTC-Supported production.
Written and performed by Kate Darach
Thirteen tales inspired by the old names for the full moons. Under a Hunters Moon, a middle-aged 'cougar' plots her next conquest, two sisters wish life were a story in Egg Moon, while in 16th century Yorkshire a woman contemplates the Harvest Moon. This celestial body witnesses each character's explorations of the particular and universal aspects of womanhood.
2015 Show: Assistant-Directed by Jonathan Brown.
"The thrill of any festival is the unearthing of gold where you least expect to find it – in this case an anonymous Brighton back street in an old Sunday school. Exeter Street Hall, recently refurbished with contributions from local residents, is where Kate Darach is performing her first self-penned play. Each of the 13 lovingly constructed tales about 13 women from different cultures and times are inspired by the cycle of the moon. This is a performance from the heart.
Director Jonathan Brown has stripped things down to the essentials and the momentum grows in emotional intensity without a smear of sentimentality.
Darach morphs from character to character, even in mid sentence, and takes you with her instantly. There is a fire in the belly of her performance radiating such warmth that even the harsher characters engender empathy. Female they all are but this is humanity going about its daily business with nothing new under the moon. The cycle of birth, love and death, with every drop of blood spilled along the way. Darach has made a passionate piece of theatre in which tenderness muzzles desire and compassion soothes frustration. It has that special magic of a first album. It speaks to you and has something life affirming to say.
Five stars, By Tom Locke, Brighton Argus.

ARGUS ANGEL WINNER Brighton Fringe 2015
Developed on the Something Underground
"Grow Your Own Solo Show" Course.