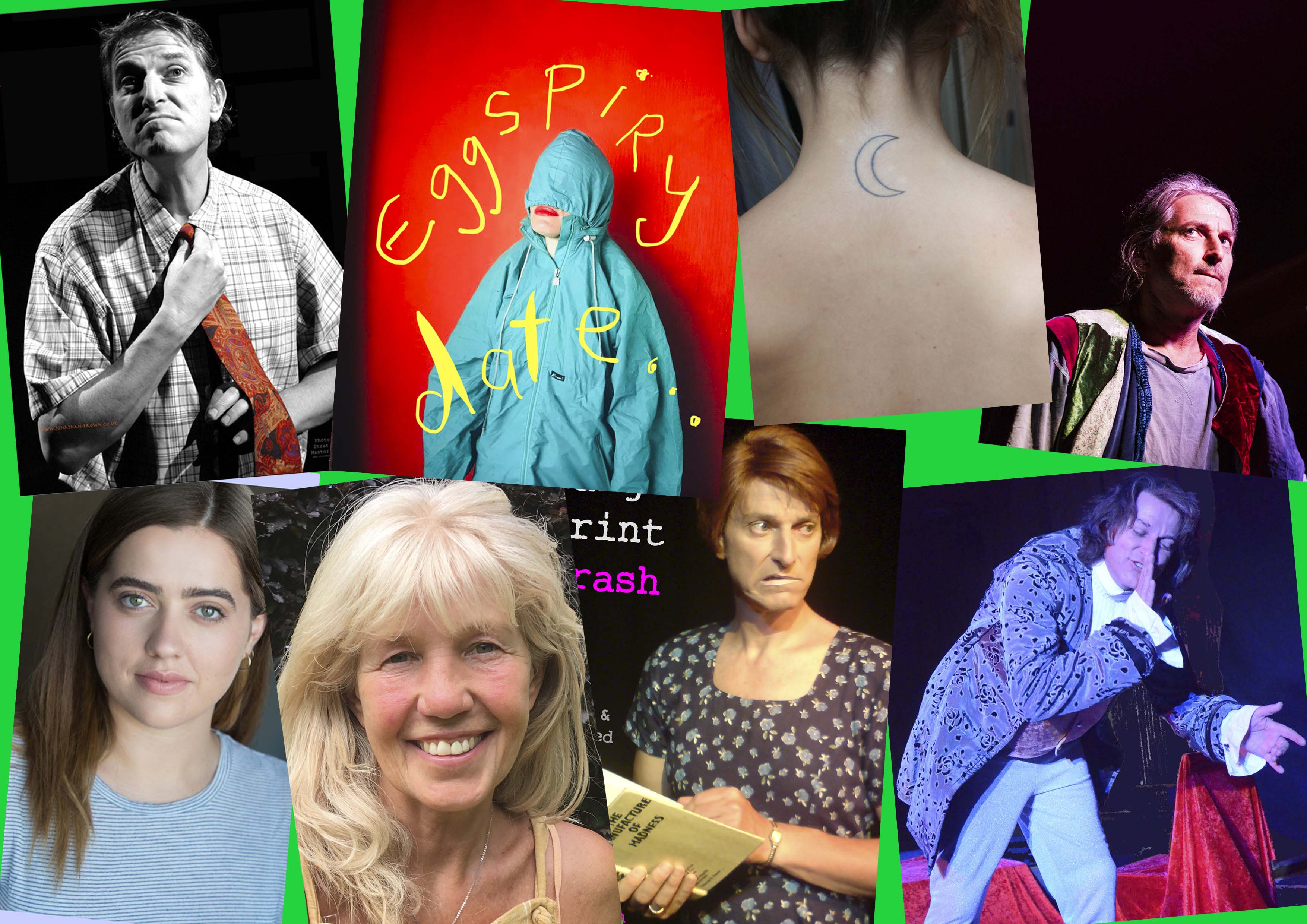 Welcome to the 2019 Lewes Solo Show MiniFest!
(This Page is still under construction)

8 – 9 – 10 November 2019
Amazing One Person Shows
with a host of
award-winning performers

 Line Up:
Pip Utton: Before I Forget I Love You, I Love You 
Ross Gurney Randall: An Audience with Henry VIII
Kate Darach: Moon Tales

 Daniel Finlay: Damien
Loyse de Pury: Eggspiry Date

Jonathan Brown: The Silent Stream
Lianne Campbell: Upstaged (working title)

Jonathan Brown: Large Print Trash
Tracy Wise: Crime Scene Illusion

Nick Cohen: Life Without Oscar

Olivia Nicholson: Hen Coup (working title)
Giulia Menichelli: When I Call Your Name

Denize Levitt:  Fruit

Jonathan Brown: Happy Hour
Grow Your Own Solo Show Course  Participants: Showcase
Jonathan Brown: One Man Woodstock (tbc)
Where?
Lewes New School. Talbot Terrace
Lewes BN7 2DS
TICKET OPTIONS COMING SOON:
including:
Single show ticket
= £10

Three's Company Ticket
(3 shows for £ tbc)
The 6 Pack!
(6 shows for tbc  )
The Magnificent 7
(7 shows for tbc)
The Big Weekender
Alone on a Busy Stage
They say everyone's got at least one novel in them. But for actors it's closer to being a Solo Show. Lewes is home to award-winning Something Underground Theatre co, and Jonathan Brown, it's artistic director has been creating solo shows since 2006, and has mentored many successful and award-winning acts.
Now Something Underground and Lewes are together playing host to the first Solo Show Mini-Festival, happening the weekend after the reverberations of the early November fireworks have died down, and in the lovely building of Lewes New School.
Many shows in one weekend is what the billing boasts, from doyenne of the genre Pip Utton's show "Before I forget I love you, I love you" to award-winning Ross Gurney's "An Audience with Henry VIII", Kate Darach's "Moon Tales", an Argus Angel Award-Winning collection of 13 women's stories, the highly acclaimmed "Damien" by Daniel Finlay (son of actor Frank Finlay), plus "Life Without Oscar", a tale of Hollywood wannabe's with RSC, NT and BBC director Nick Cohen, to some of Brown's own award-winning plays, including "The Silent Stream" (Best Male Performer Brighton Fringe), Happy Hour and Large Print Trash (Best Male Performer (nom) Brighton Fringe).
Several of the shows have been developed on SU's "Grow Your Own Solo Show" Course and we'll be having snippets from these shows too, alongside shorts and whole shows from previous graduates. The course has been running since 2012, and runs again in Lewes & London in Sept/Oct this year.
Says Jonathan, "The Sussex area has a lot of talent, which in November's Solo Show miniFest is going to be further augmented by brilliant acts coming from London or further afield. As I've seen more and more brilliant work, deciding to run a Mini-festival of Solo Shows in the town was beginning to feel like a no-brainer, and it's something I've been mulling for several years, partly inspired by The Arundel Theatre Trail, and by Winchester's Hat Fair, though both are very different beasts. There'll be reduced-cost "Passes" too, to enable you to see several shows.
We're going to have 16 One-person shows, most about an hour, over the weekend,… and what is remarkable is the number of people who, having seen their first solo show, become utter evangelical converts to the genre.
That's invariably because, rather than in an ensemble play, whereby an actor might rely on others to carry the performance, a one person show performer, because they've no one else to hide behind, invariably has to have such incredible energy that they inhabit the whole stage, bring an entire world to life, fully populate the story, and single-handedly transport the audience with their sheer presence and talent. Because there's no hiding, you invariably get performers who know their game and how to bring a place alive.
The audience are also far more engaged, as one person pieces often include acknowledging the presence of the audience, connecting with them, not necessarily in what some might consider rather scary "audience participation", but simply by turning to them far more, recognising that this genre is more about facing and talking to your audience, than the "fourth wall" style that most theatre is accustomed to presenting."
When: Fri 8th November – Sun 10th November 2019
Where: Lewes New School, Talbot Terrace, Lewes.
Cost: Individual shows: £10, plus various "Season Passes" & deals on seeing several shows.
More info & Advance tickets:
https://www.somethingunderground.co.uk/solo-show-minifest-2019-lewes/
Contact: mail @ jonathan-brown.co.uk