You Can't Watch This Play (Again)
An Archaeology of The Soul

Inspired by The Fool and Now…
Award-winning Jonathan Brown takes you on a wildly subversive, newly-discovered-each-performance  journey, with live musical score (David Molz) and in-the-moment plunges into worlds you've been told "Do not exist!" (…..and to shut up about them).
 With a format that echoes Dying to Meet You / Je Suis, and with always newly-discovered territories… we'll play together.
Pictures by Peter Williams
Jonathan Brown,
Best Male Performer 2013,
Best New Play 2012,
Best Male Performer nominee 2007,
Best New Play (shortlist) 2013,
Brighton Fringe.
"The beacons are lit… the cry has gone out. The mother's legs are as wide and high as mountains. Here comes the child who will repel the invaders…… And that's not even the most surreal moment in this show. Award-winning… performer Jonathan Brown returns…. with an hour of comic mysticism – a trippy ramble through…. birth, death and politicians that escalate and topple into each other. Clutching a stick with a fox's head carved into it, ….part jester, part cabbie….. he's an off-kilter wild-man, ….. (with) nature-filled musings…… like elemental myths you might hear when huddled around a fire…..hypnotically unpredictable………. just peering over the dizzying edge of Brown's sad, funny, mad world is……. a rush." The Stage, 2015.
"Thank you for your show. I loved it… a brilliant piece of story telling. It was great to be part of something intimate …. engaging, moving, challenging, compassionate and funny.—— better than pretty much anything I have seen in the theatre over the last couple of years. Afterwards, I felt that I had been taken on a journey and come back knowing something new – which is just what theatre should be like."
Andrew Miller, co-director, Wishworks Puppet Theatre Company.  2015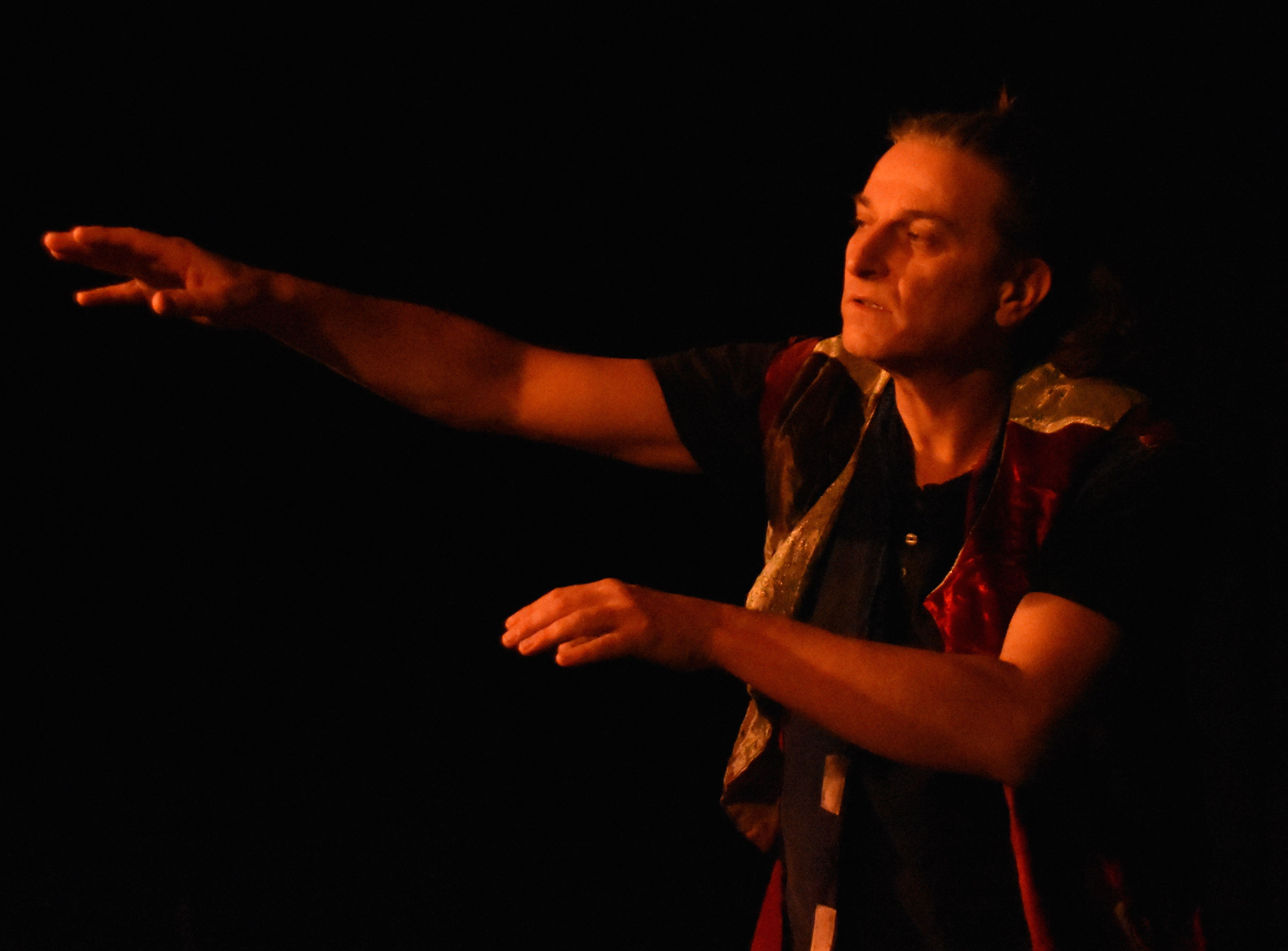 "We are very lucky to have an actor like Jonathan Brown on our doorstep" Britt Forsberg 2015
"I was blown away by this performance. Sharp, emotive, human and fresh. A herald to all fools fooling. Sacred theatre for the modern age." Laura Gwynn. Lewes. 2017
"So enjoyed last night…fantastic to see the craft of the Fool" Kirsty Hurd Thomas, Totnes 2017
"Very alive and skilful crafting of a few disparate threads, with a little of the sublime and plenty of the ridiculous. Scatological humour blended with heart character tones. We're all reborn for Easter. I would welcome more, such a tonic. V. Daring and you pulled it off virtually seamless."  Vimmi Vatish, Ashburton 2017
"If you ever get a chance to see this guy GO! Fantastic improvised one man show – very intimate, inventive and honest performance." Ranmal Burkmar, Brighton, 2015
"Really enjoyed the show! You are a brave man, improvisation for 1½  hours and it was excellent. I look forward to more." Lisa Schneidau, Ashburton 2017
"We loved it! Thanks for a brilliant evening. Funny, touching, and bloody clever. What a skill!" Lianne Campbell, Lewes, 2017
"Just Great." Hanna
"Thank you for the fire!" Deep Voice
"Well done – something GOOD was definitely happening!" Norina
"Excellent, Thank you." Fyffe
"Brave, Provocative. Emotional. Hilarious. Fantastic. Everyone should watch this." Hannah
"I loved it. Choootspah!" Lucas.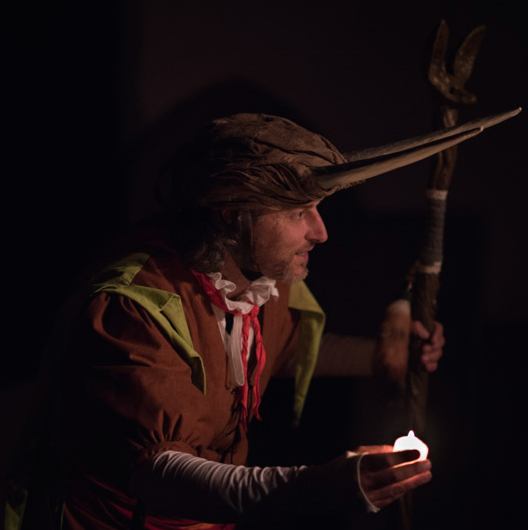 Next performances?
Click here:

About….."You Can't Watch This Play". 
By Jonathan Brown
Walking onto the stage with nothing planned is a fool's game. But never has it been more popular, with comedy improv troops adorning stages galore.
What happens then if you keep the humour but add in poignance, emotion, passion, sound scapes and physical theatre? The answer is "You Can't Watch This Play", a new show by Jonathan Brown.
Jonathan has been a regular around the south since 2007, when he brought "Large Print Trash" ( Best Male Performer (nom), Brighton Fringe 2007).  Since then he and his theatre company Something Underground have racked up several Brighton Fringe / New Writing South awards, including Best New Play, Best Male Performer, Best Female Performer.
Most of his shows come fully scripted and fully pre-rehearsed. So, why the departure?
Jonathan says, "My performance roots lay in the spontaneous Fool, who can speak the unspeakable and truth to power. I love using text in performance and so to step out not knowing my lines always feels rather idiotic and terrifying. It's like stepping off a very high cliff. But once the audience and I take that step, we begin to inhabit a dreamworld where anything is possible. That sort of freedom is exhilarating, unpredictable and for audiences alike, I've been told, a rush!"

Why the title? Jonathan says, "For me, being told "you can't" spurs me on, especially when it has to do with freedom of expression. Whilst attempts at censorship are equal grit to the oyster, these performances certainly act as a challenge to any force that tries to suppress expression."

And, it seems, as no two shows are the same, it is possible to see any two (or more) performances, and see completely different plays.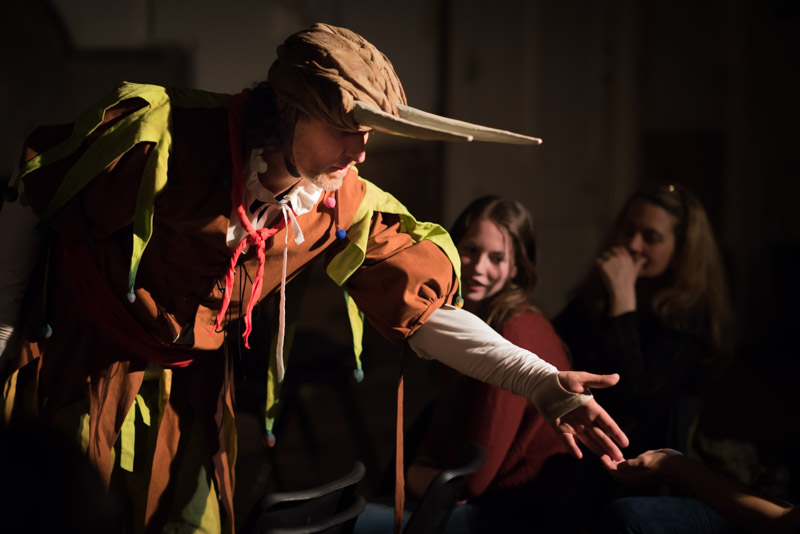 ———

2015 Costume: June Bradbury, Chloe Slater.
Thanks to 2015 costume funders: Sally Edwards, Margarita Steinberg, Daniel Stevens, Julie Yates, Simon Hellyer, Lianne Campbell and Sophia Campeau.