Thank you for expressing an interest in Of Our Own Making (OOOM)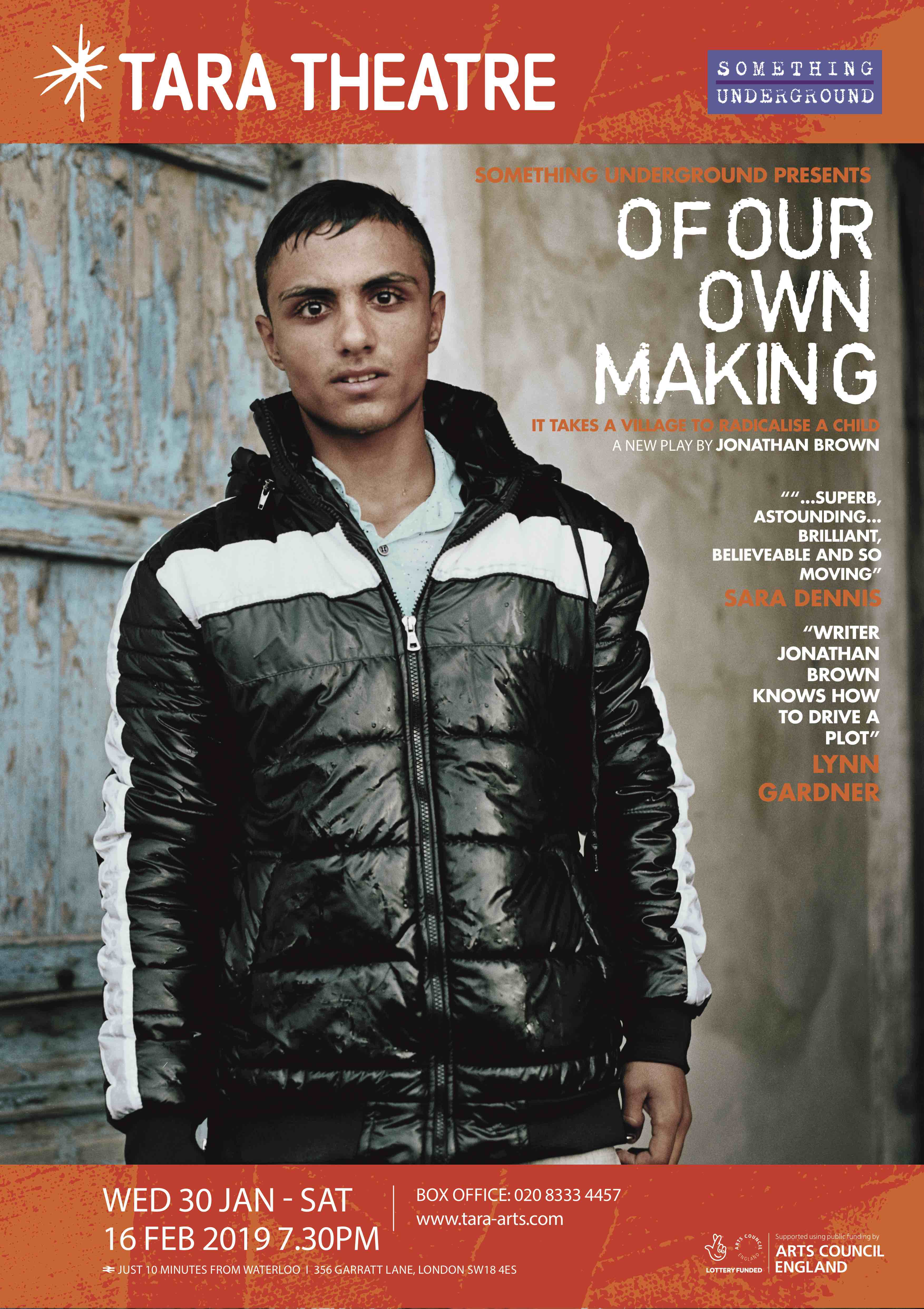 In 2019 we finished a 20 performance run of the play at award-winning Tara Theatre in Wandsworth, ending 16th February 2019
What the project included?
The OOOM project had two main strands:
(i) Performance: Something Underground rehearsed (3.5 weeks) & performed (20 performances) our new 5 hander play (Of Our Own Making) at Tara Arts.
(ii) Community Engagement: We engaged teen boys from the region, and ran 5x free day-long workshops on the issues of grooming and radicalisation, which included support from ABOB (youth mentoring organisation) leader Mark Nightingale, and Dance / Movement teacher Helen Parlor . The culmination of the workshops was a joint public performance to a full house by the boys and actors.
What is the play about? 
A beautiful (if disturbing) story of travellers, lovers, perpetrators and those travelling a continent seeking a home. With haunting music by Dirk Campbell,
Of Our Own Making


I
t takes a village to radicalise a child.
Set against the Syrian refugee crisis…
Meet Parsifal, a lost and lonely boy, slowly groomed and recruited online.
Meet Amira, a mother crossing the Med, with Hussan, Saif and her baby Meet Saif, a man on the run.
Meet Hussan, a man travelling into Europe from… who knows where?
Meet Micky, a tabloid cub reporter looking for dirt on refugees.
Let them meet each other and their fate. 

The clock is ticking.  The targets are set.
What are the main themes?
– The play explores concepts of masculinity and lack of elder guidance as we witness a young isolated & vulnerable man being radicalised. 
– we explore the exploitation of the refugee crisis from many sides (inc. the tabloid press, people smuggling themselves amongst them, traffickers, grandstanding volunteers.)
– we explore the themes of redemption for those that have been either radicalised or conscripted into gangs / jihadi groups such as ISIS.
– the play explores the causes behind the creation of the refugee crisis, and of ISIS.
More about the show here and Script Here:  Download
Writer / Director: Jonathan Brown
Cast of latest production (liable to change): Natali Servat (Amira), Vincent Kerschbaum (Saif), Hamza Siddique (Hussan), Erin Elkin (Micky), Jonathan Brown (Mohammed and others). 
Music: Dirk Campbell
Movement Director: Helen Parlor
OOOM Workshop Mentor: Mark Nightingale
Project Manager: Clare O'Flaherty
Stage Management: Emily Melville-Brown
Technical Operator: Paul Thomas
Sound Design / Programming: Jonathan Brown (& Paul Thomas)
Design: Sorcha Corcoran / Jonathan Brown
Lighting Design: Joseph Thomas
Associate Lighting Design: Callum Perera
Main Poster Image: Loulou D'Aki.

Click here for more info on Cast, Headshots and Biogs for our Feb 2019 Production.
Who are Something Underground?
Brighton-born Jonathan Brown founded SU in 2006 with a collection of one man shows and his first play for a cast, The Well in 2011 (about the world's deepest hand dug well, in Brighton), all of which were set in Brighton, past and recent past. His next play for a cast, The Last Lunch, won Best New Play award (New Writing South) in 2012.
Since then, SU has gone on to create several more award winning one man and woman shows, and ensemble plays with ever more ambitious visions. More info about the company here:
Endorsement from Jatinder Verma MBE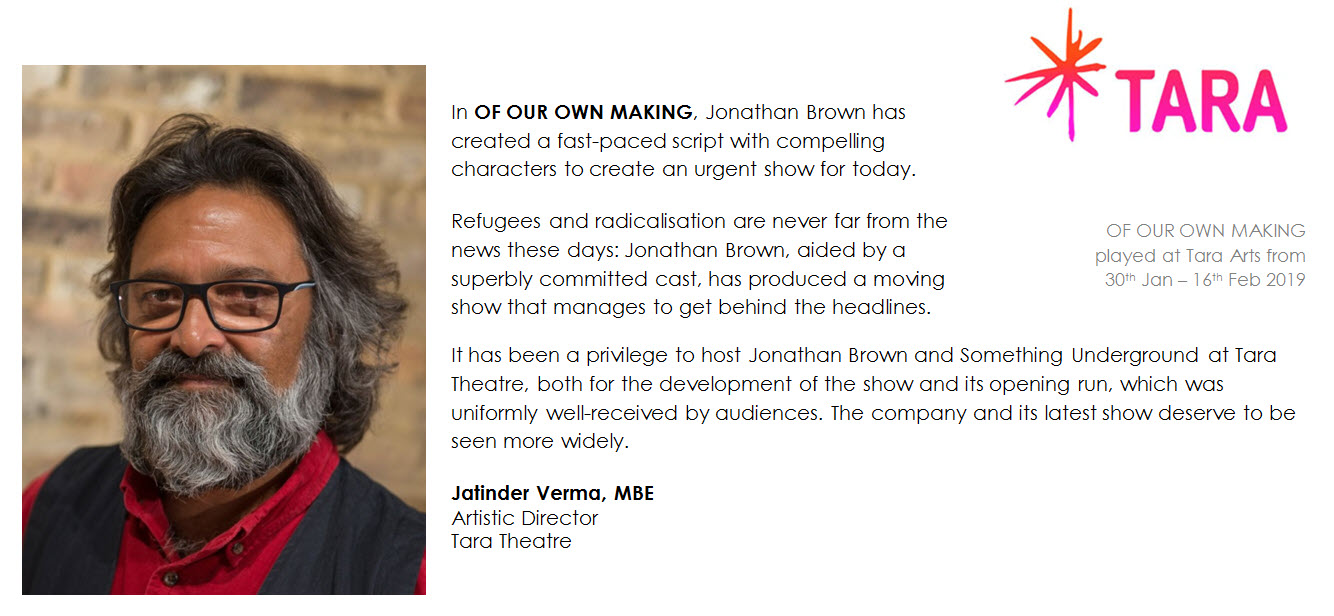 Images
Production

 Workshops


Foyer Display
Audience feedback: 
Of respondents…
86% rated the script 8/10 or higher.
95% rated the acting 8/10 or higher.
84% rated how the play tackles the issues at 8/10 or higher.
81% rated their likelihood to recommend the play to a friend at 8/10 or higher.
86% rated wanting to see more from Something Underground at 8/10 or higher.
89% rated the music 7/10 or higher.
72% rated the staging 7/10 or higher.

Just below 50% Average Houses during our run of OOOM at Tara.

Please click here to be taken to a full summary of audience feedback 
NB: We started with Feedback forms after the play, but audience reported being too deeply affected by the play to complete them, so we included feedback form link in programmes. This gleaned fewer responses, but felt a gentler approach.
Previews / Interviews / Coverage
TV News Interview here: 
https://www.londonlive.co.uk/news/2019-01-09/new-play-also-offers-workshops-for-young-boys-to-express-themselves
BBC Radio London Interview here: (you'll need to be signed in to BBC Sounds)  https://www.bbc.co.uk/sounds/play/p06xh65s?t=2h40m50s
All 18 items of our London Coverage can be found clicking HERE. 
Video Material from Tara: 
Reviews
★ ★ ★ ★ ★ 

  

"Deeply touching – few pieces of theatre which can deliver such a big story in such an intimate way"   

Theatre Weekly



Deeply touching……. a powerful story dealing with important topics; …. an unexpected plot twist to really grab the audience's attention…….. opportunity to see the stories of people who are usually not given the chance to defend their actions and beliefs. We see the lives of five individuals, with different backgrounds, cross, connect and change forever. 
The simple staging…. created just the right ambience for this piece.  The actors… deliver a powerful, and simply astonishing performance with incredible naturalness of character.
One could feel the tension rising in the room as the story developed, and although the play is nowhere near comedy, there were moments so tense you couldn't help but laugh or gasp, or even cry with the actors.  … holds the audience's attention throughout, with not one moment where it becomes dull or uninteresting.
With very little the cast and creatives manage to accomplish a lot. With the use of simple but explicit staging and costumes, this production makes the audience focus more on what is most important, the story. And from that story we are able to feel a number of emotions, helped by innovative lighting design by Joseph Thomas.    ,…..a "must see" for everyone, as it covers some of the most important problems we face in the world today ……. There are few pieces of theatre which can deliver such a big story in such an intimate way. Full Review Here



★ ★ ★ ★ ★ 
The National Student
"…. a must see for everyone."
Something Underground Theatre Company has produced a powerful performance that resonates deeply… ….. gives a voice to people who doesn't usually get to tell their story….. a play about survival, about prejudice, and about reminding the audience that we are all human….
The acting is sublime – Vincent Kerschbaum and Hamza Siddique's last encounter stands out in particular. The emotional journeys of the characters are amazing, and you find yourself holding your breath as Saif (Kerschbaum), Hussan and Siddique are reunited. The moment their happiness turns to understanding is breathtaking. The set is simple, and supports the naturalism of the characters very well. Jonathan Brown has created a play with twists and turns, and the end resonates deeply. …
This is a must see for everyone. If you a curious about the world, do yourself a favour and go and watch Of our own making. Full review here
★ ★ ★ ★  

"Sophisticated and compelling theatre." Everything Theatre 
Jonathan Brown's extremely accomplished play….. a perilous journey – skilfully evoked on the minimalist set –   The ingenious plot goes on to explore the hidden truths of the characters, and in the second half addresses the online radicalisation of naïve young British Muslims. 
A superb cast (complemented by writer Jonathan Brown as a disturbingly composed interrogator) do full justice to the vivid script, which Brown also directs. He orchestrates the action with finesse, adeptly balancing a complex drama which flows between the profoundly personal and the intensely political. Plot twists are deftly handled and the play incorporates heart-stopping thrills as well as surprising shafts of humour……. is a humane and intelligent play set in a pre-Brexit world in which Britain was still an attractive destination for those escaping more pressing issues than whether our baristas have the right accent.  Full Review Here
"exciting.. thrilling drama. …. makes its points very forcefully" British Theatre Guide
Jonathan Brown's play presents a picture of the international refugee crisis that seeks to replace media exploitation with understanding. Vincent Kerschbaum as Saif, Erin Elkin as Micky and Hamza Siddique as Hussan are so convincing in the way they present themselves that discovering their real roles makes a fascinating story that takes dramatic twists as it goes on to investigate terrorism further. As the story goes deeper into what can make the world of the Isis fighter seem glamorous and into what makes a terrorist, this play becomes exciting drama. ….the play makes its points very forcefully and its plot contrivances emphasise the multi-layered interactions that lie behind the tragedies of the Middle East and their repercussions. This becomes a thrilling drama but seen through individual experience, the personal making for more understanding. Full Review Here
★ ★ ★  

The Stage. "Cinematic Scope & Thriller-like swiftness"

The Stage.
 …unfolds with thriller-like swiftness. …high-drama storyline… What's most impressive about it is its cinematic scope. Through scene after short scene, it traverses Europe, slipping from a sinking ship in the Mediterranean, to an interrogation cell in London, to a climactic car chase through the streets of Rome. The plot races along, full of foreshadowing and flashbacks – including a particularly harrowing one about Isis' takeover of Mosul. Vincent Kerschbaum is endearingly earnest as the shadowy Saif and Brown himself multi-roles capably. 


"…deals with a huge range of issues & powerfully encases them in a very human story…  power & purpose, as country grapples with Shamima Begum issue" Asian Culture Vulture
….deals with a huge range of issues – and powerfully encases them in a very human story of loyalty, faith and deceit; and there is a thrilling and 'will they, won't they ending'.   Its topicality is simply heightened by issues surrounding Shamima Begum. ….significant back stories that play out to chilling effect in the final quarter…… insights have also been gleaned from the tragic death of 26-year-old Anna Campbell, who died in northern Syria fighting for the Kurdish Women's Protection Units, known as the YPG against IS. Her father Dirk Campbell…. contributed music to 'Of our own making'. 
…has a wide and… ambitious scope and a strong international dimension. The story of 'Hussan' is particularly powerful and encapsulates a certain British Asian experience that can easily happen and is very relatable. Saif's story is also very effecting… Full Review Here
Full reviews: Click Here


Footage
For better or worse, and for myriad reasons, we chose not to video this production. Forgive us!
However we do have some clips from our 2017 (rough!) showcase, and from the workshops with the boys and the actors, plus their combined showcase performance. 
(A) This is from the 2007 showcase  from the early Torbruk scene. With Rasfan Haval as Hussan, Adam Sabatti as Saif, and Natali Servat as Amira. (Again during this 2017 Showcase, we had 2 days to rehearse the full play, and hence this rendition reflects this.)
(A) This is a short snippet from a 2017 Showcase, with Adam Sabatti in the role of Saif.  (NB: Again, we had 2 days of rehearsal, so all a bit rough!)



Footage of Workshops and of Boys' performance.
Workshop Footage 2
Workshop Footage 3
Boys & Actors Performance Footage (9th Feb Matinee – very packed full house, & nervous boys!): 
Past Reviews, Awards, & Accolades of Something Underground.
To read more about our past feedback.  Click here 
Music: 
Our Music was composed by Dirk Campbell.
Dirk was born in 1950 in the British military hospital in Ismailia, Egypt, and lived in Kenya till 1962, so was exposed to indigenous Arab and African music before its alteration by western influence. He studied Stravinsky and formed the progressive rock band Egg in 1968 with Dave Stewart and Clive Brooks. In 1972 he studied composition at the Royal College of Music, gaining an ARCM diploma in 1974. He composed the score to David Anderson's BAFTA-winning animated film Dreamland Express in 1983 and began a full-time career as composer in 1989 with film and commercials commissions from Redwing Films. He's written scores for film (Harry Potter, The Mummy), television, advertising, radio and stage (RSC). He's acquired specialist skills on a wide range of ethnic folk instruments which have led to recording work in film, television and computer games. He created two instrumental sound libraries distributed by ILIO Entertainments, World Winds and Origins. His solo CD Music from a Round Tower was released in 1996 and Music From a Walled Garden in 2010. He lectures on music in remote antiquity, and ways of incorporating non-western music into contemporary composition.
NB: Dirk's music is also imbued (i feel) with the tragic story of his daughter Anna, who joined the YPJ (Kurdish women's protection force) in N Syria to fight ISIS, and who died a year ago at the hands of the Turkish military).
Here are three examples of his music from the play.
Journeys:
Saif's Theme:
Gunman:

Marketing and Social Media Assets: Click Here
What we've learned:
Script: The script was in good shape when we began the rehearsal process. We had many discussions about aspects of it, and with some debate found new shapes for it. The current script is a result of that, although the last scene  (3.6) is still in need of gentle finishing touches.
Staging:  Although my original plan wasn't fully realised at Tara (the scale of the space at Tara made it hard to achieve) I have a clear sense of how I'd like to bring the original design to fruition were we to repeat the production. 
Workshops: Though we were lucky to get our funding, it was on our 2nd submission that ACE awarded us. This meant that by the time our funding came through, our project timeline (set by the date of our slot at Tara) was days away from commencement, leaving us just 5 weeks (ish) to populate our workshops. This was in the run up to Christmas, a boys only project, and with heavy/challenging content.
At first we only reached out to the most marginalised youth, but as time went on and the response was low, we realised we needed to reach out to ever more pre-engaged young people, and we advertised more broadly. In the end we ended with a very dedicated group who committed, showed up every time, worked extremely hard, and who's verbal and written feedback on the project was that it was deeply rewarding. 
In future projects, we would likely reach out to pre-engaged teen first, parallel to the more marginalised.
Workshops Feedback: 
"Today was great. It was very active and very soon we learnt a new dance which was great. The salad was great and the blueberry muffins were amazing."
"It was alright, would prefer more acting scenes rather than thinking/talking, or dance/physical exercises. I liked the sharing of our thoughts or our opinions et cetera. Perhaps less talking about obvious things and stuff, and more acting advice."
"Good. Distracted my mind from the depression of my personal life. I thought the story was very… And taught some life lessons."
"The dance (physical activity) was a bit too, how do I phrase it, physical, yeah let's leave it at that. As I was after very tired."
"I enjoyed the scene about the time spent on screen, And how he was lying. I thought that if it reflected the… Of my life very well as in all ways… It's not good to spend too long on screens but I have things better to do and everyone else is… on laptops and phones."
"I wasn't expecting anything like this. It's different to what I normally do. It was better. The thing was better and all over the place. I enjoyed it… The end."
"I enjoyed today. I came here expecting something different and can find myself becoming impatient or unenthusiastic when I catch myself. I would enjoy more acting scenes perhaps learning techniques or ways to act that people look for a realistic performance or just a good actors habits, how they are to get noticed as not over the top, or in an audition like wow they can really act."
"I had a nice day today, it was still tiring but fun and I would happily come back again next week. "
"I also enjoyed hearing the story and how stories and connecting with ourselves can help us become more in touch with not even just acting, but perhaps what drives us, what we want out of life!"
"Good. It was tiring, and engaging, and energising."
Who supported us during the OOOM project?
OOOM was first written in 2016, and has been developed since that time, with rehearsed readings, Pitchs to venues, development advice surgeries, a showcase, building a "pitching" website, consultation with funding managers, attending funding training seminars, re-drafting 19 or so times, and meetings, emails and calls with potential (and actual) partners. 
Supporters:
All involved in our Rehearsed reading of the play 18th November 2016, Lewes : Lucas Augustine, Amanda Bolt, Tom Bonham, Kristina Howell, Fabio Leone, and support from David Stephens, Anna Hawkes, Philip Ayckbourn.
Script feedback: Philip Ayckbourn / Annika Brown.
Expert on migration lore: Michael Loader
Pitching Opportunity: All at "Pitch Up", Ovalhouse, 2nd March 2017
Development Consultancy: Sarah Wilson White @ Farnham Maltings
Hosting our June 2017 Showcase: South hill Park, Bracknell.
All the actors in our 2017 Showcase: Adam Sabatti, Cathy Conneff, Natali Servat, Rasfan Haval (and JB)
All our showcase Crowdfunder contributors Julie Yates, Dave Molz​, Peter Smith​, David Mowat, Andrew Miller,​ Philip Ayckbourn, Amanda Bolt,  Bridget Walker, Lisa Blundell, Claire Dalkin, Saoirse Callanan and Anonymous.  
Donated costume items: Gladrags Brighton…and 5 life jackets: Makers Unite
Music: Provided in kind by Dirk Campbell.
Scaffold Tower: Provided in kind by London Tower Services
Truck Parts: Provided in kind by JS Trucks (Tilbury).
All involved in our funding bids to Arts Council: 
Ken Parry @ A Bigger Bucket for consultation and advice.
Jonathan Kennedy @ Tara Arts for consultation, advice and booking OOOM at Tara.
Mark Nightingale @ A Band of Brothers
Dirk Campbell (Musician) for in kind offers
Esther Clevely @ Providence House, Wandsworth (Youth Outreach Help)
Louise @ STORM empowerment, Wandsworth (Youth Outreach Help)
Izzy Archer @ St Peters, Wandsworth (Youth Outreach Help)
George Turner @ Carney's Community, Wandsworth (Youth Outreach Help)
Steve Uragallo @ London Tower Services (scaffold tower) 
Louise Rowe @ Brighton YOT, for partnership and advice.
Jonathan Cullen (actor) for real financial backing.
All who applied to perform in the play.
Additional thanks to:
Crowdfunders for 2019 Production to date: 
Corinna Gray, Rachel Williams, Orfhlaith Tuohy, William Horrocks, Dawn Morgan, Liz Webb, Amber Styles, Toby Melville-Brown, Leonard Tye, Daisy Bruce, Kata Gyongyosi, Emma Lavelle, Andrew Miller, Ramona Belcher, Aaron Swartz, Louise Grinsted, Caolan Walpot, Wayne Batchelor, Maya Love,  Jessica Melville-Brown, Paul Chauncy, Bill Horrocks, Julie Yates, Zeff Sherriff, Martin Thomas, Heidi Smith, Gillian Ward, Rebecca Cant.
Special Mention to Mike Albu, Giulia Menichelli, Jean Rankin, Jonathan Cullen, Karen Di Lorenzo for their extra generous donations
Contact Artistic Dir, Jonathan Brown here, or call 0787 9832857