"I'll show you what I've been hiding, for thousands of years"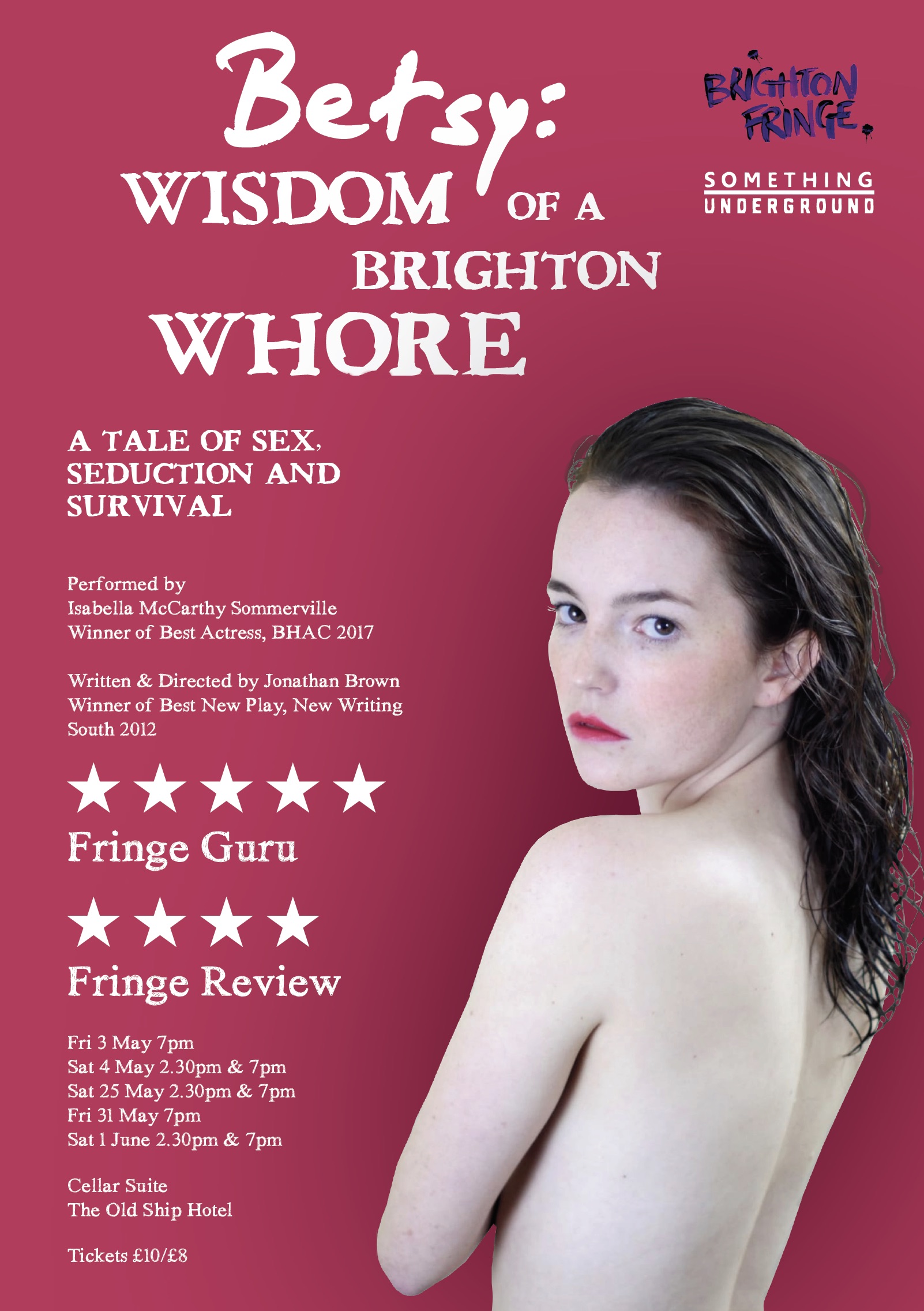 A one-woman show
Performed by Isabella McCarthy Sommerville
Written & Directed by Jonathan Brown
"writer Jonathan Brown knows how to drive a plot….. "
Lyn Gardner, The Guardian.
A Tale of Sex, Seduction and Survival.
Journey into the murky, sordid and dangerous depths of Brighton's Underworld, an evocation of memories and past lives.
Betsy, a sauce box, a church bell and a woman on the edge, with mouths to feed, nobs to fleece, and  blobby boys to repel.
"Please", he says, "just half-an-hour of your time."
I says, "Ain't you listening? You on The Blob? I ain't in the business for bloody boiler hands and stokers. I don't do dingers and I don't do blobby boys.
Look at ya, You look like you've got the French Pox on ya. Now get lost. I got nobility waiting on me, with cleans sheets and clean dicks, so I don't need to go bug hunting. Now sling it!'
Returning  to Brighton Fringe May 2019.
Dates & tickets here
It's 1820 (ish) and Betsy is a Brightonian, "at work". Having parted company from the St Mary's Home for Penitent Women, she's been given a "situation" by the knobs of the town, keeping an eye on the house of builder and land developer Thomas Kemp, lest he should return with the money he owes his creditors. Whilst she's there, she's required to give comfort to members of the brotherhood, and it isn't long before she meets Guardian of the Town and Chair of the Committee for the Provision of the poor, George Bintshaft.
Flowers arrive. Then wine, then dresses. A carriage to take Betsy to a private supper. More wine, soft words, and then a hot wine-laden breath, urgent whisperings, fumblings at the same dress…
Betsy is a prequel to The Well and a sequel to The Silent Stream.
Also played by Rachel Guershon (2013)                                     and Elle Dillon Reams (2014) 
Rachel was nominated Best Female Performer Brighton Fringe 2013 for her performance.
5 Stars! "Eleanor Dillon-Reams had everyone engaged from the start! We see her character Betsy at work to begin with before she blatently challenges us to see things from her perspective. The reality of what a whore has to do in order to survive. You can tell that director and writer Jonathan Brown wanted to create something that not only made the audience laugh and feel turned on by the words he writes, but also to shock and make everyone stop and think about the consequences that are made because of actions and decisions that are made. Sex may be power, but as Eleanor sadly pointed out, what you do with it causes a downfall. The way this play is written not only indicates the harsh realities of how women like Betsy got involved with this way of life, but what can happen if you want your children protected. The way Eleanor switched between so many different characters was so powerful, moving and seamless that one forgets you are just watching one woman on stage. She has a presence and talent that surpasses everything you would expect in an actress – strength, flexibility and dedication. The way she made sure you knew exactly what happened to her with no holds barred was intimidating, yet extremely vulnerable. In many ways it is a shame this was a one act play as we wanted to know more, but if Jonathan Brown was ever inclined to make this into a full two act play with more characters involved, I am sure this likewise would also be a success.
A secret gem of the fringe not to be missed!" Sasha Cooper Remote Goat 2014
Press coverage #1             Press coverage #2
5 Stars!   "…Right from the start she blew us away. …. it was hard to remember that we weren't actually watching two people…….. it will haunt me for years…………… a lot of very funny lines ….and  an awesome piece of physical theatre…… Rachel Guershon is truly a woman to watch. Try to catch her if you can."  Fringe Review, Brighton, May 2013.
4 Stars!  "Rachel Guershon is great as Betsy, a spectacularly foul-mouthed but deeply flawed woman.  Guershon is a wonderfully physical actor, and one of the highlights comes early in the play…. You can really feel the pain and fear in her performance." www.fringeguru.com Brighton, May, 2013
"Betsy, performed with passion & easy rapport by actor Rachel Guershon…..writer Jonathan Brown knows how to drive a plot….. I will never look at the North Street clock tower again without seeing Betsy's frightened face."
Lyn Gardner, The Guardian.