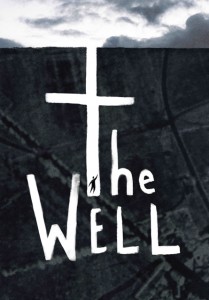 image by Tomas Morren
"In my dreams, I'm digging. I'm always digging. Digging my way out, or digging my way in."
Written & directed by Jonathan Brown

A powerful, visceral drama, set in Victorian Brighton, about  the world's deepest hand-dug well, a well that stretches down as deep as the Empire State Building is high.
With vivid writing, energetic and risk-taking physical theatre, a wonderfully dramatic set and stunning lighting, we've created an evocative and atmospheric world, touching on the archetypal whilst grounded in themes of personal struggle, intimacy and love.
With  (alphabetically) in 2013: Jonathan Brown, Antje Gern, Julia Hart, Simon Hellyer, Rhiannon James, Raya Marlee, & Erica Smith. 
 "….wholehearted, studied performances and a clever script make it easy enough to follow, especially once you're keyed in. The effect is to give the play an intoxicating fluidity and unpredictability..…a gripping, expertly paced story. Some superbly dramatic set pieces, including a genuinely thrilling finale, ….well worth the effort." The Argus May 2013.
4 Stars.  The Argus. Brighton. (Feb 2011)
  It's 1862, Jack is digging at the foot of a 1200 foot well, but – no water. Despite Jack's suspicions about this seemingly pointless exercise, and the ever-mounting expense, the Town Guardians order the digging to continue, to supply their planned workhouse. But Jack is also digging for the truth about his mother, Betsy, a prostitute who was found dead under the pier when he was a child. Now, in a relationship with Bella, another prostitute, he discovers too much; about those in power, and about Betsy…

4 Stars: "…. huge achievement in creating "The Well" is admirable for its audacious development of a footnote in history,  an amazing experience….. scaffolding, ladders and levels are irresistible to the gymnastically inclined cast who provide constant fascination by their inventive interaction with the set….Their movements at times flow with almost balletic grace but are convincingly representative of real action which are also frighteningly brutal, as were the hard knocks endured by the actual well-diggers and their womenfolk in early 1860s Brighton. Each of the five women and two men demonstrate total competence in their art. Simple ingenuities pepper the entertainment. Torches are used to startling effect sustaining keen audience engagement throughout….Everything theatre should be… the handful of dates remaining on their current tour are a must for enthusiasts of gritty, real theatre. Seats are worth much more than the ticket price" Remote goat, Bridgwater, June 2013
"The Well" comes with two prequel One-person shows:
"Betsy: Wisdom of a Brighton Whore" & "The Silent Stream"
…………….
with special thanks to:
Producer: Daniel Stevens at 3 Phase Events,
Wlll Eagles: Technical Manager for Brighton Fringe 2013
Chris Pugh:  Technical Consultant and Support
Street Scaffolding, Brighton, for loan of scaffolding.
Hove Town Hall for rehearsal Space
…………………………………..
Performers in the 2011 NVT development performances of The Well (alphabetically):
Jonathan Brown, Mark Green, Ali Mckenzie Wilcox, Leanne Mckenzie, Julia Monkcom,  Paddy O'Keeffe, Warren Saunders, and The Well Choir: Jo Mortimer, Ross Adamson and Christine Heaton
Music / Choir Leader: Jo Mortimer .
Lighting Design:  Strat Mastoris
Operation: Jezz Bowden & Daniel Stevens
Original Set Construction: Tomasz Baraniecki
Script Consultants:  Anita Sullivan, Roy Grant, Peter Mercer
Music Arrangement: Jo Mortimer, Annika Brown, Jonathan Brown
Buy a Copy of  the full Script of "The Well" (Download = £10)
Once you've paid, Contact us and we'll send you a download link.