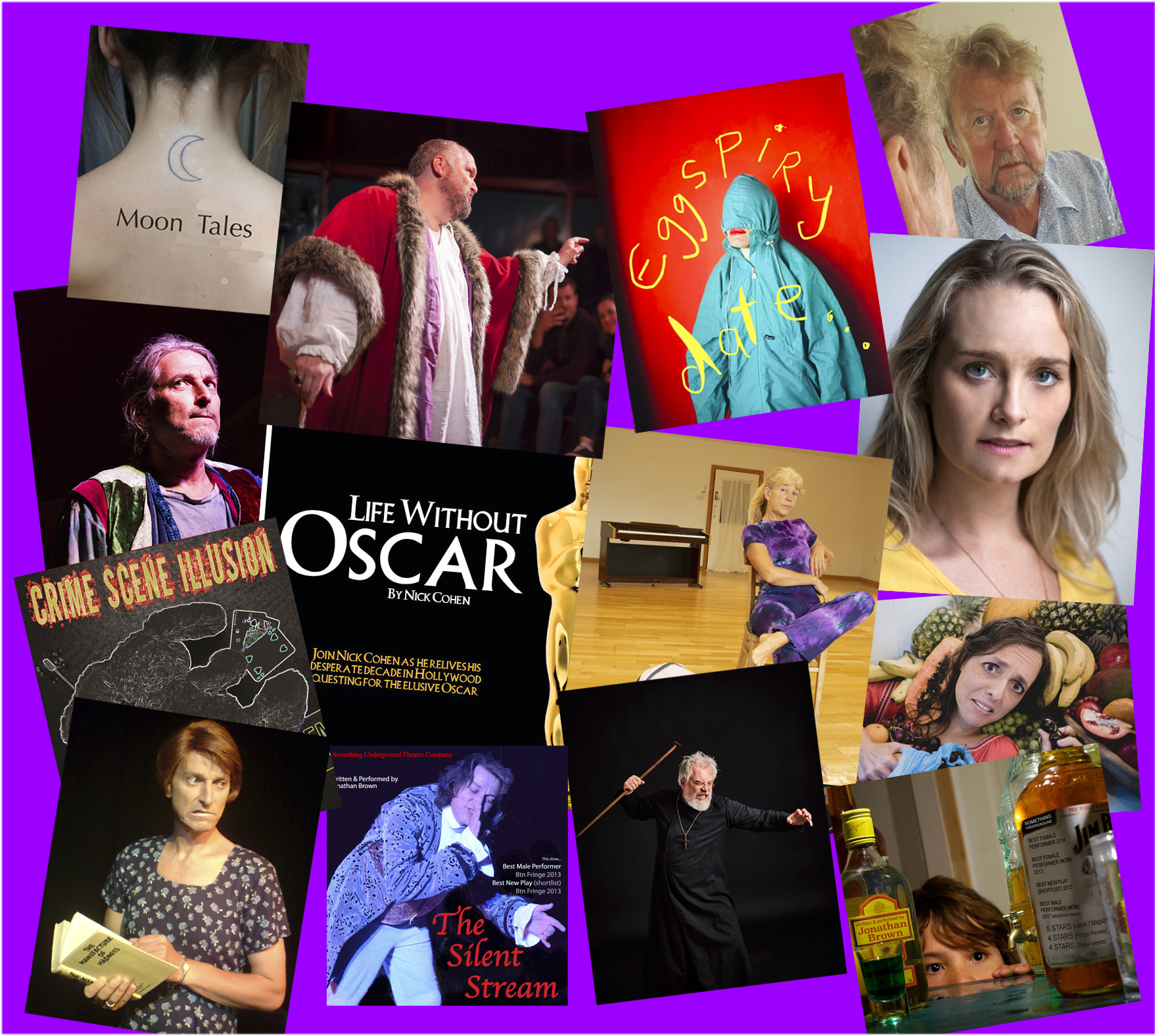 Welcome to the 2019 Lewes Festival of Solo Theatre

8 – 9 – 10 November 2019
Lewes New School. Talbot Terrace, Lewes, BN7 2DS
EARLY BIRD EXTENDED TO MIDNIGHT 28 Oct 2019

17+ Amazing One Person Shows with a host of Award-winning performers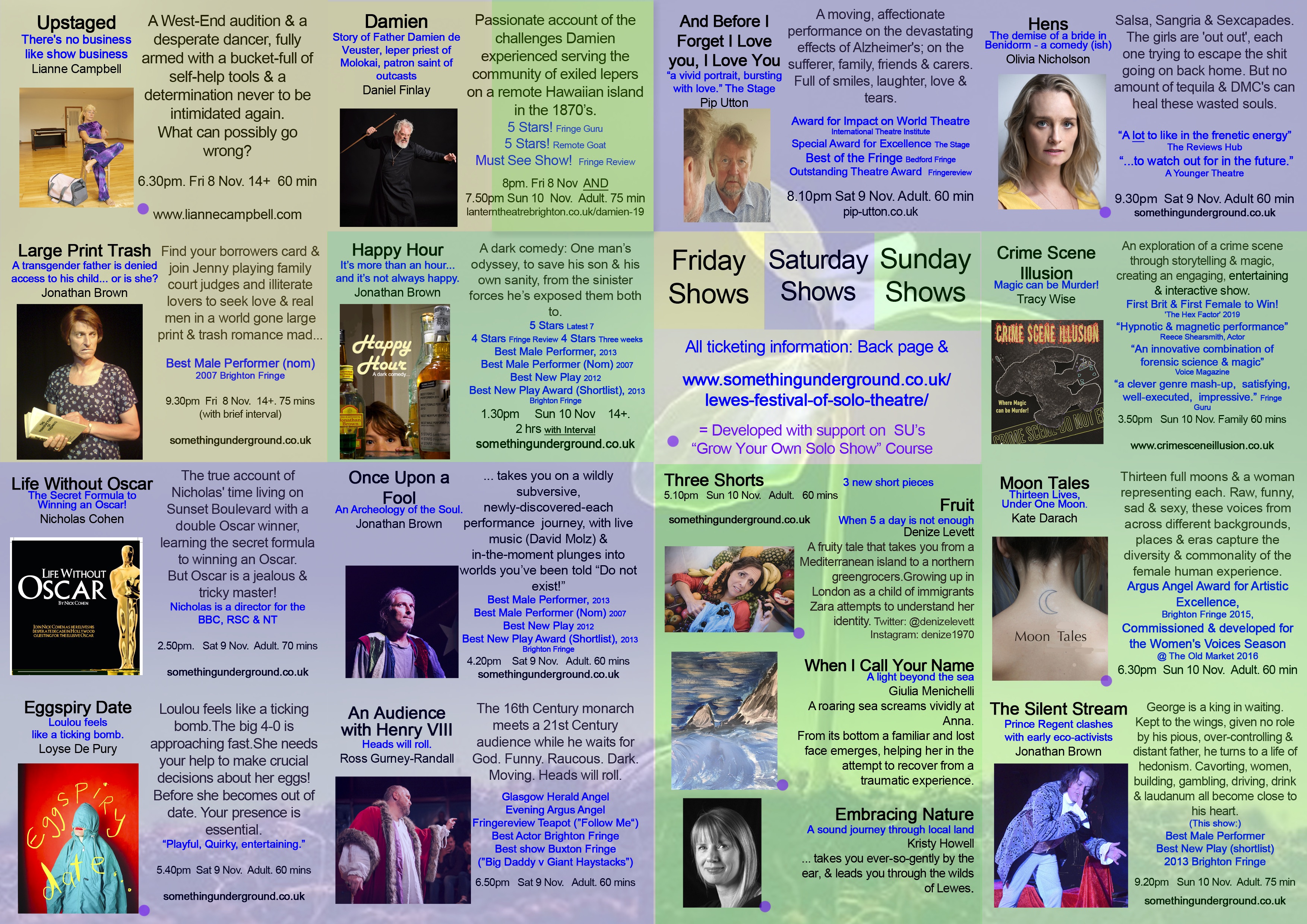 Kindly Supported by Lewes Town Council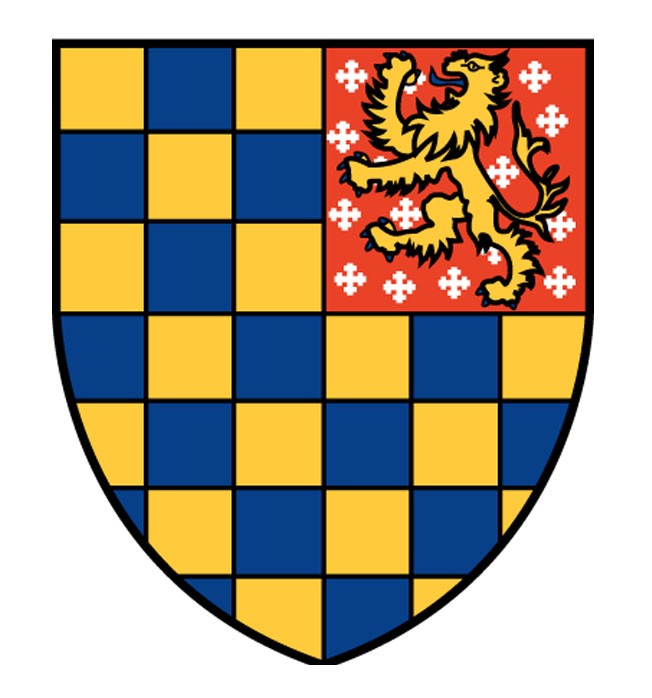 Line Up
Click on Titles for more info.
*****
See each listing for links to advance Individual Tickets OR to Multiple-show Passes
*****
*****PLEASE NOTE*****
Once you've bought your Pass through Brown Paper Tickets, & after you receive your confirmation email, you'll be invited to CHOOSE WHICH SHOWS TO PUT ON YOUR PASS.
This is a vital step to ensure you get to the right shows & that we don't double book anyone.
If you get stuck call BPT on 0800 411 8881
If you get really stuck call us on 07934 175570
Tickets can also be bought on the door (cash or card), but we cannot guarantee a ticket.
EARLY BIRD EXTENDED TO MIDNIGHT 28 Oct 2019

---
DAY 1 – Friday 8th Nov

---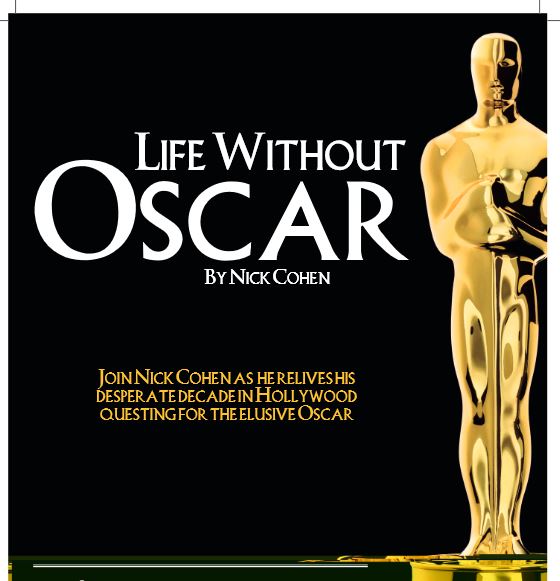 Nick Cohen: Life Without Oscar
The Secret Formula to Winning an Oscar!
Nick's doing OK as a director, working away at the BBC but an invitation from California changes everything. A double Oscar winner invites him to live on Sunset Boulevard and learn the secrets of the Academy. But with the magic formula in his hands, what will happen if he has to choose between his sanity, soul and his obsessive love for Oscar? A true account and a cautionary tale of a (relatively) innocent in Hollywood!
with direction from Jonathan Brown
Nicholas is a director for the BBC, RSC & NT
'Nick Cohens work bears all the hallmarks of a theatre de complicite graduate, the imagery is striking, the choice of work is daring, the acting understated yet bold.' (Time Out)
NB: Date / Time Now changed to:  5pm. Fri 8 Nov. Adult. 70 mins
Passes for Multiple Shows
CLICK HERE

---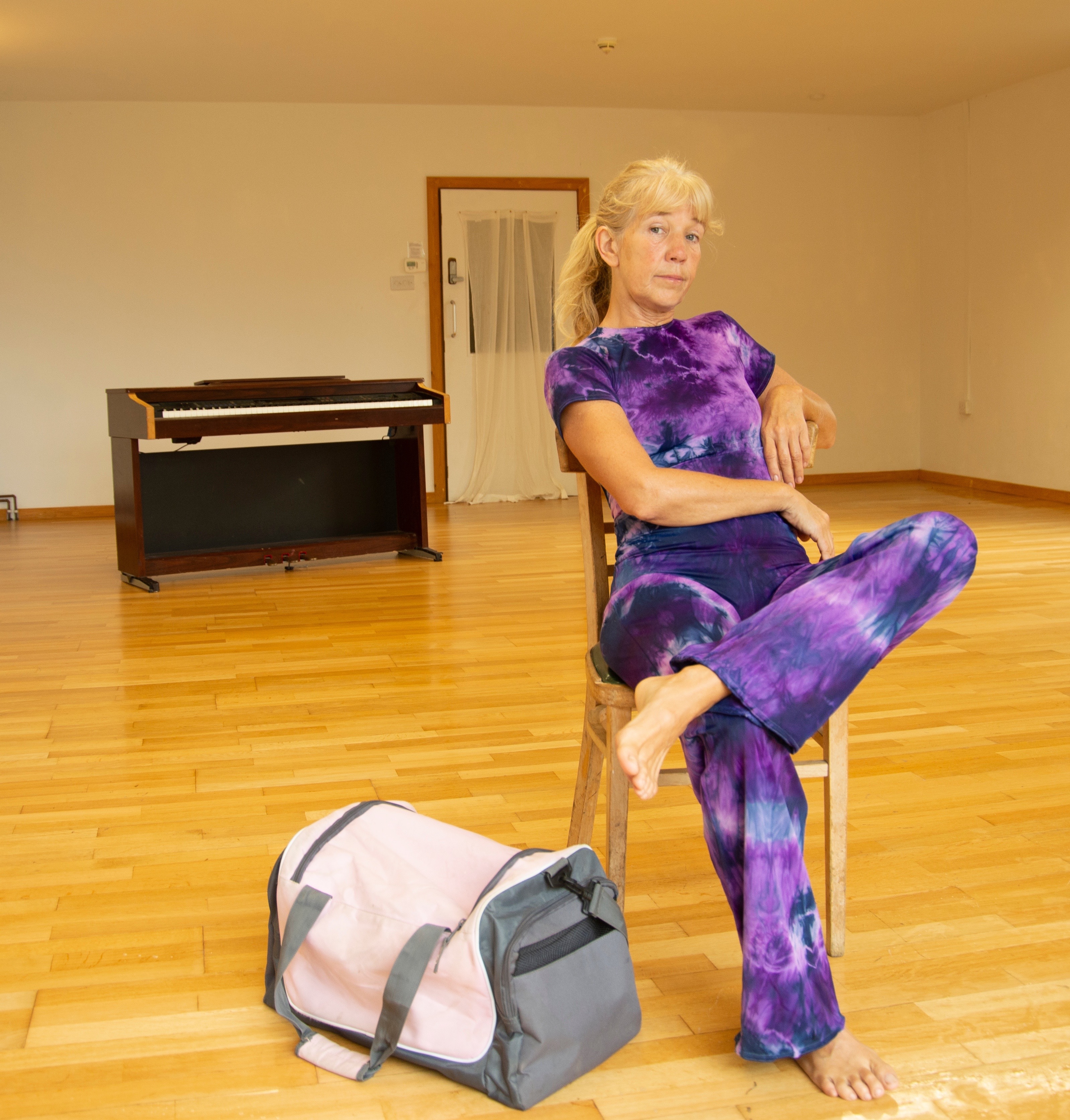 Lianne Campbell: Upstaged
There's no business like show business
A West-End audition & a desperate dancer, fully armed with a bucket-full of self-help tools & a determination never to be intimidated again.
What can possibly go wrong?
"Lianne's performance was too funny! But she also takes you on a rollercoaster ride of emotions- The gal's got talent alright!" – Fiona Houghton Oxon Hoath Retreat
"Exhilarating, funny, real and authentic."
Bettina Horvat, Oxonhoath Retreat Centre
"Intriguing, and full of life, she really takes you with her."
Pandora, Laughton Lodge
6.30pm. Fri 8 Nov.   14+   60 min
More info: www.liannecampbell.com/upstaged
Passes for Multiple Shows
CLICK HERE
---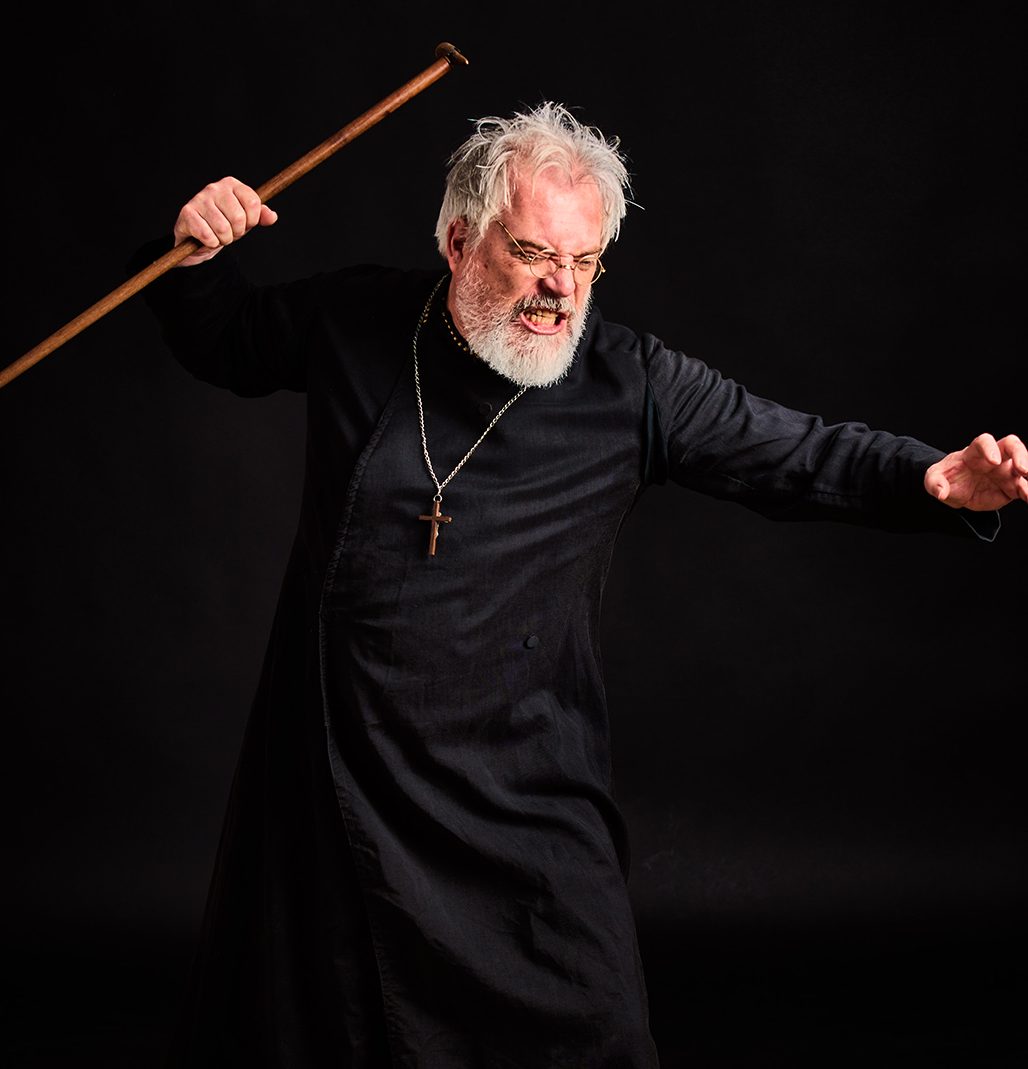 Daniel Finlay: Damien
Story of Father Damien de Veuster, leper priest of Molokai, patron saint of outcasts
Passionate account of the challenges Damien experienced serving the community of exiled lepers on a remote Hawaiian island in the 1870's.
5 Stars! Fringe Guru
5 Stars! Remote Goat
Must See Show! Fringe Review
8pm.  Fri 8 Nov     AND    7.50pm. Sun 10 Nov.
Adult. 75 min
Passes for Multiple Shows
CLICK HERE
---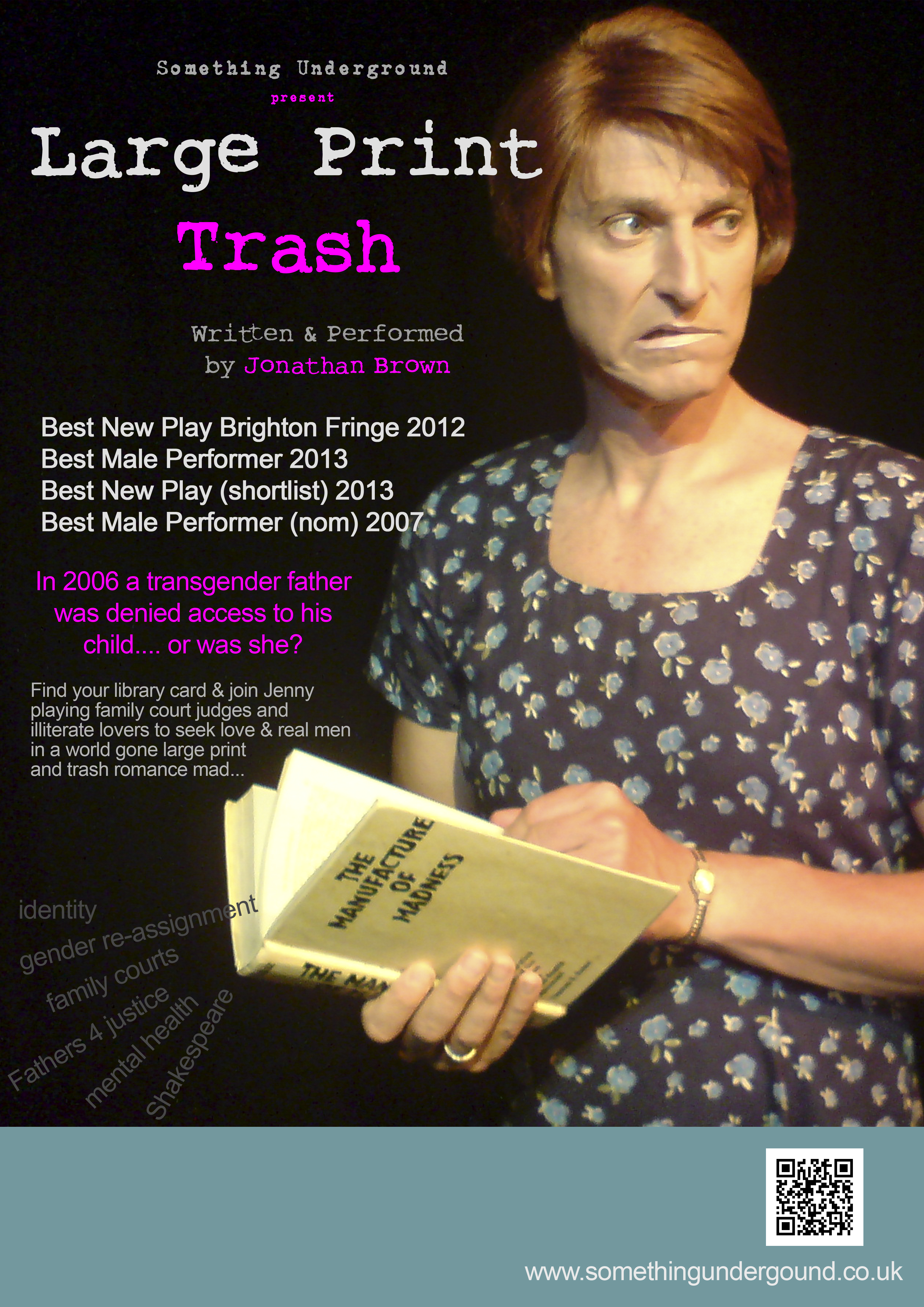 Jonathan Brown: Large Print Trash
In 2006, A transgender father was denied access to his child… or was she?
Find your borrowers card to join Jenny, a full-blooded librarian, playing family court judges and illiterate lovers to find honour and realistic literary heroes in a world gone large print and trash-romance mad. Dubious sanity, uncertain identity intertwine with wit, humour, rage… and love.
"…beautifully performed & exquisitely written….funny in the right places & thought provoking throughout…..a huge writing & acting talent at work – one of the stand-out nights of the Brighton Fringe"
Nick Stockman. Brighton Fringe Manager 2007
Winner: Best New Play Award, New writing South 2012  (The Last Lunch).
Shortlisted: Best New Play Award, New writing South 2013 (The Silent Stream)
Winner: Best Male Performer, Brighton Fringe 2013 (The Silent Stream)
Nominated: Best Male Performer,  Brighton Fringe 2007 (Large Print Trash)
Longlisted: The Bruntwood Prize 2019  (How to Start a Knife Gang)
9.30pm. Fri 8 Nov.   14+   75 min (with short interval)
www.somethingunderground.co.uk/large-print-trash/
Passes for Multiple Shows
CLICK HERE
---
DAY 2 – Saturday 9th Nov
EARLY BIRD EXTENDED TO MIDNIGHT 28 Oct 2019

---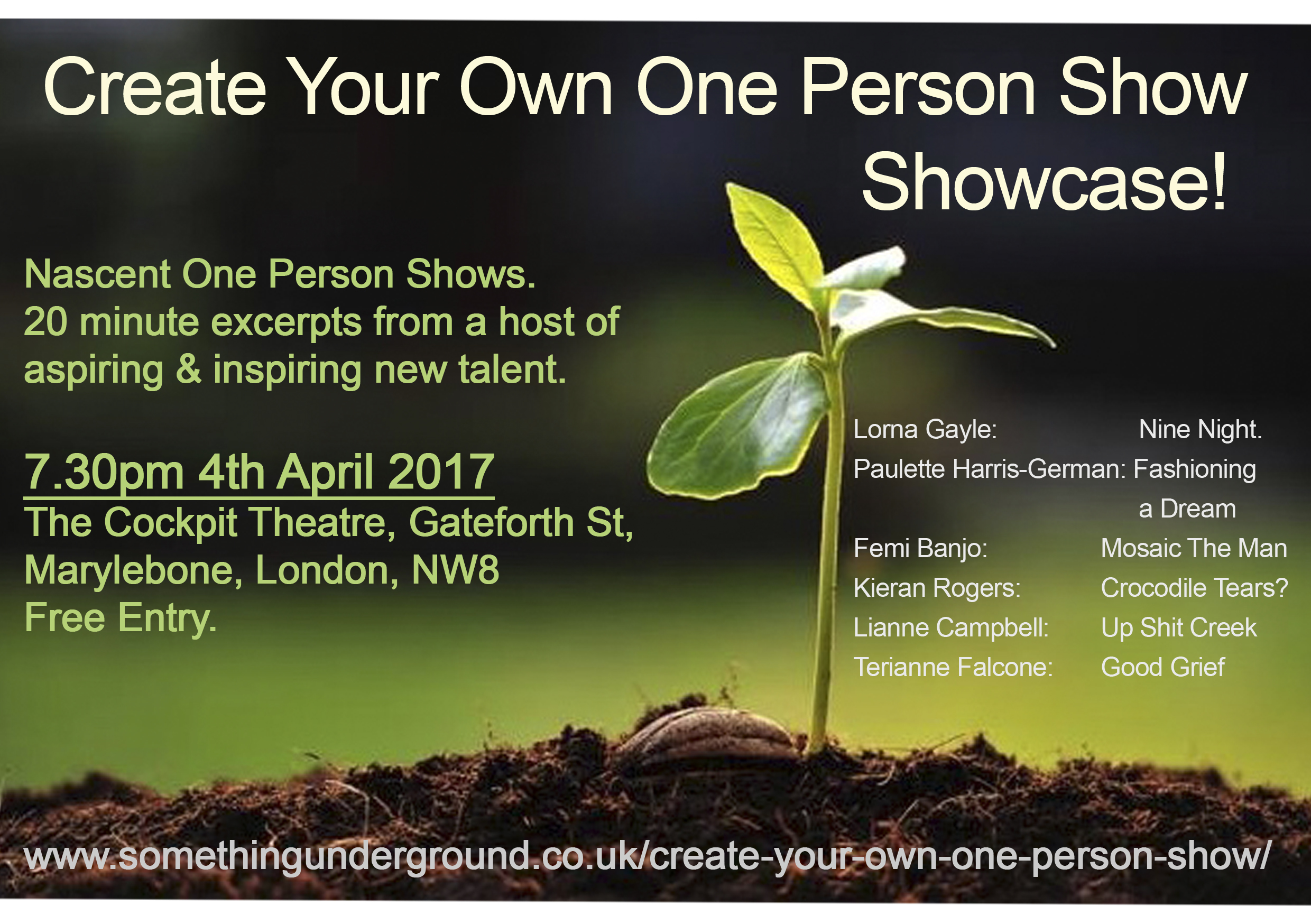 Grow Your Own Solo Show Course Showcase:
Lewes (& London) Participants Showcase
FREE
Come and give your feedback.
12.10pm… Sat 9th November. 14+
5 Performers bring to you their Nascent One Person Shows.
5 x 20 minute (ish) excerpts from aspiring and inspiring new acts,
all part of the "Create Your Own One Person Show" course,
led by Jonathan Brown of Something Underground Theatre Company.
http://www.somethingunderground.co.uk/create-your-own-one-person-show/
(TBC) Carole Shaw: The Amazing Adventures of Her Majesty at 90+
Will the Queen save the country, the world (in true Gordon Brown fashion) or merely the day?
A peek into one of the many adventures of the world's longest-serving monarch.  This powerful, colourful lady head-of-state takes us on a riotous ride into unseen aspects of her life.
——
Cheryl Roberts: The lonely woman's guide to shoplifting
Top tips for spicing up your world through criminality.
After the ending of her relationship and having no savings or anywhere to live,
Francis moves back in with her 'difficult' mother at 42.
The temporary measure rolls into years and Francis turns
to petty crime in an attempt to escape her mundane existence.
——
Mark Locke: Songs in the sea of Kaye
A look at how the past invades the present and informs the future.
Using a memory of found objects and scratched records Mark Locke investigates his need to perform through
the performer Danny Kaye.
——
Nuria Calucho Junca: Fear
Minds sense it but they can't see it…they have to go for it regardless.
Our historic muses were once dreamers…but times have changed.
A bit of laughter and sorrow is the cocktail of this story.
——
Natasha Stanic Mann: "The Return"
"Love could still happen, it may, I say, but should I even wish for it or just say nay?"
Dobriša Cesarić
A collage-like multilingual theatrical performance mixing storytelling, physical theatre and performance art. The piece explores the hidden consequences of war and its intergenerational damage. An attempt to unpick entanglement in a family history could lead to a discovery that the battles we fight might not be our own.
---
Jonathan Brown: Once Upon a Fool
(previously: You Can't Watch this Play)
An Archaeology of The Soul
Award-winning Jonathan Brown takes you on a wildly subversive, newly-discovered-each-performance  journey, with live musical score (David Molz) and in-the-moment plunges into worlds you've been told "Do not exist!" (…..and to shut up about them).
Jonathan Brown, Best Male Performer 2013,
Best New Play 2012,
Best Male Performer nominee 2007,
Best New Play (shortlist) 2013,
Brighton Fringe.
4.20pm. Sat 9 Nov.   14+   60 min
https://www.somethingunderground.co.uk/fool/
Passes for Multiple Shows
CLICK HERE
---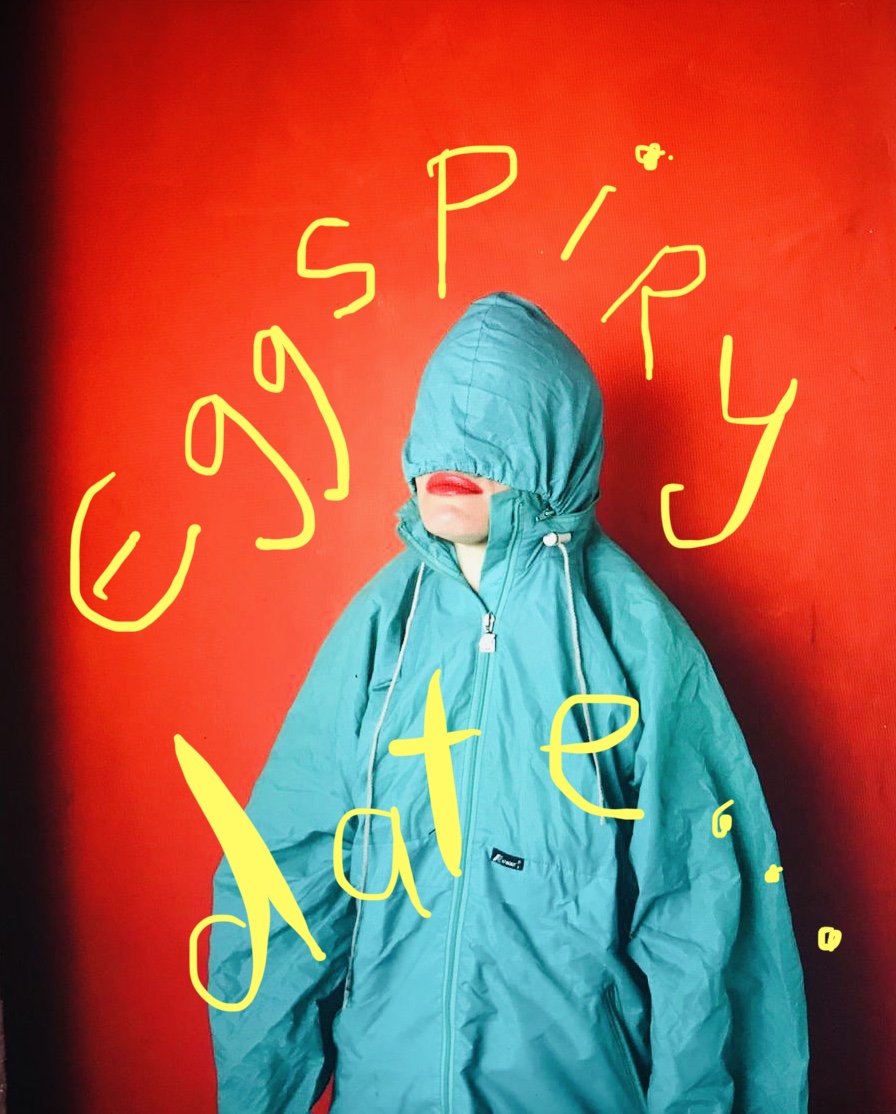 Loyse de Pury: Eggspiry Date.
Loulou feels like a ticking bomb.
The big 4-0 is approaching fast.
She needs your help to make crucial decisions about her eggs!
Before she becomes out of date. Your presence is essential.
"Playful, Quirky, entertaining."
(A  piece in development)
5.40pm Sat 9 Nov. Adult. 60 mins
Passes for Multiple Shows
CLICK HERE
---
Ross Gurney Randall: An Audience with Henry VIII
Heads will roll.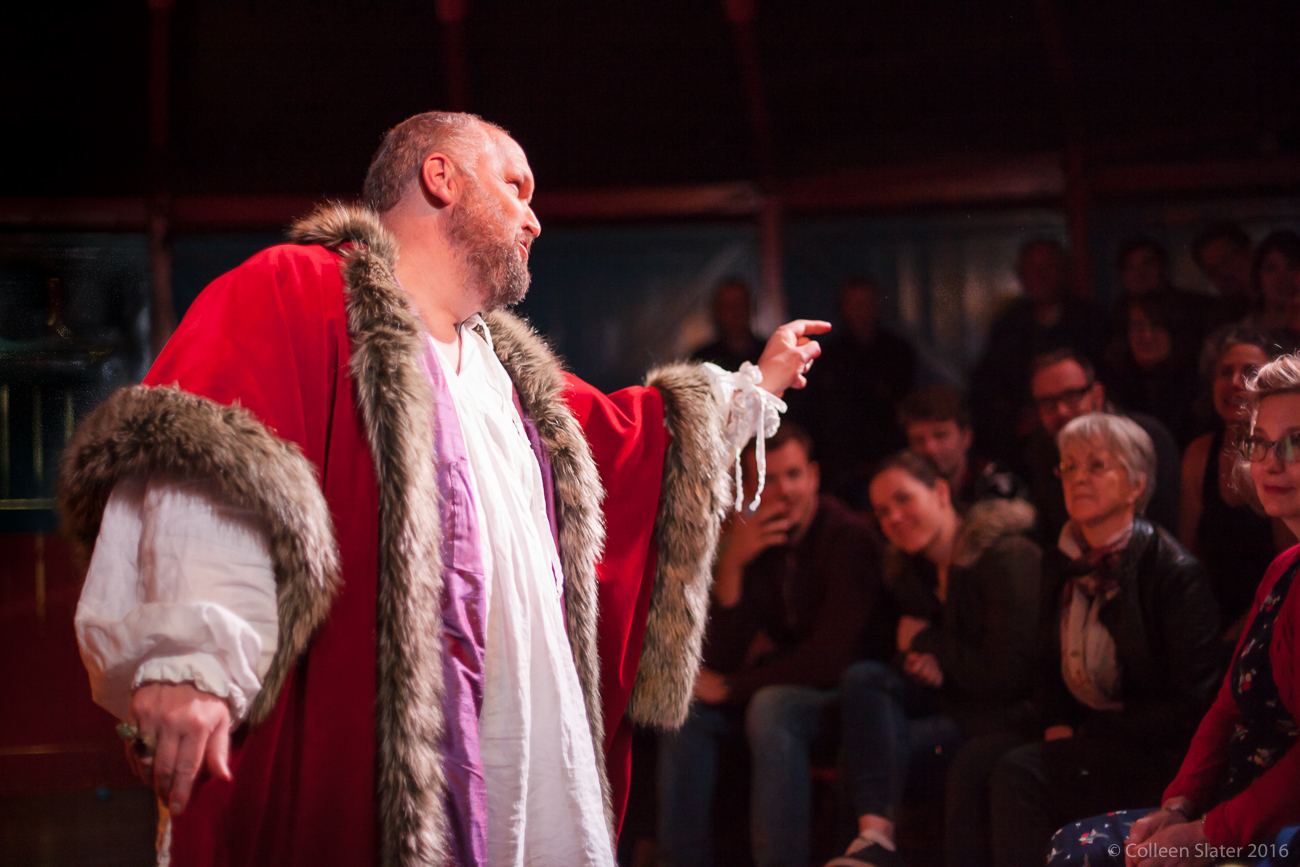 His Majesty does not have syphilis. He wants to make that quite clear. And as for the wives – there were perfectly good reasons why they had to go. And if we're asking awkward questions, Henry has one for us – where is God? Henry has been waiting 472 to meet God and he's running out of patience..
Glasgow Herald Angel
Evening Argus Angel
Fringereview Teapot ("Follow Me")
Best Actor Brighton Fringe
Best show Buxton Fringe ("Big Daddy v Giant Haystacks")
6.50pm Sat 9 Nov. Adult. 60 mins
Passes for Multiple Shows
CLICK HERE
---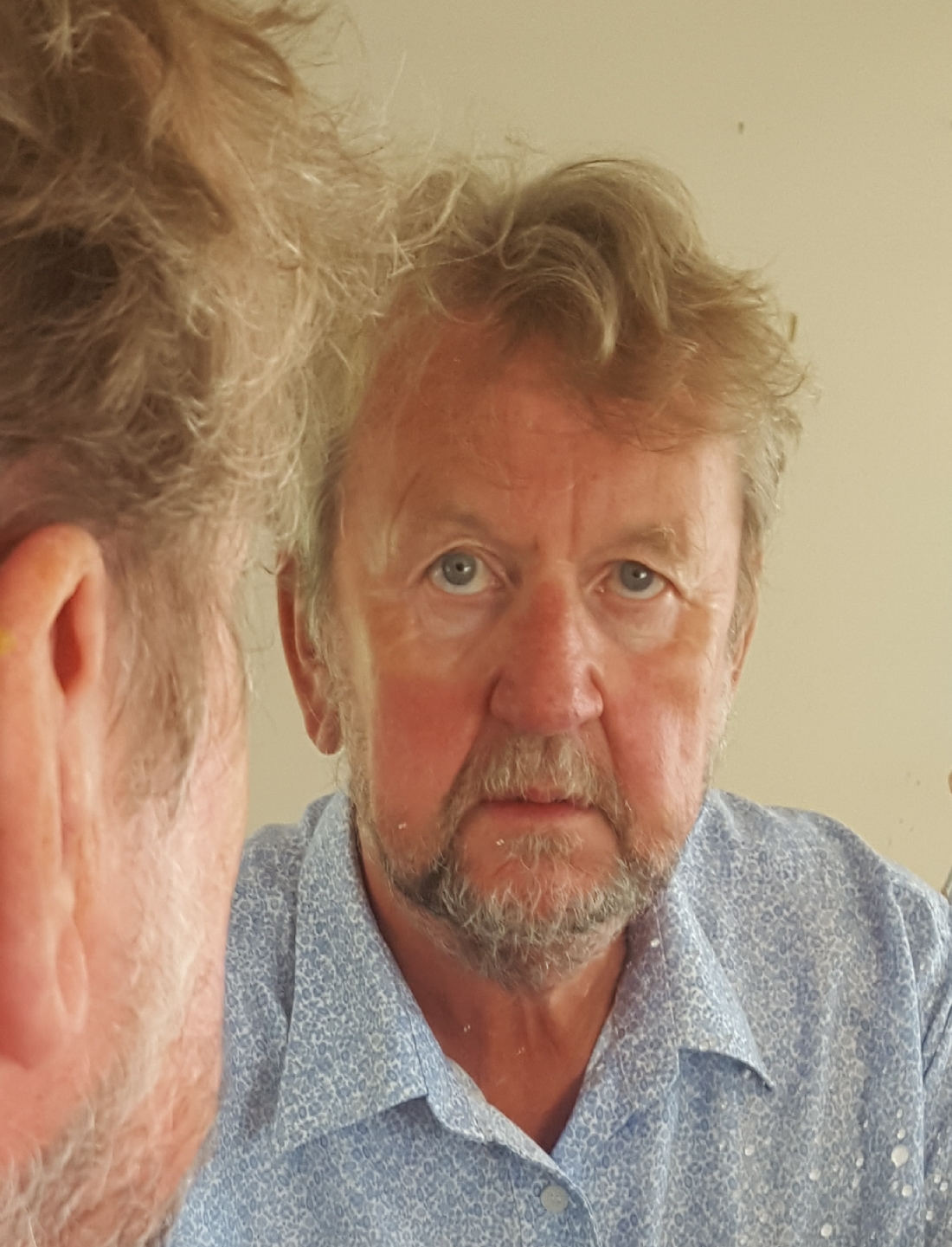 Pip Utton: "And Before I Forget I Love You, I Love You"
"a vivid portrait, bursting with love." The Stage
 Over the past 25 years he has written and performed some of the most internationally successful solo shows, receiving five-star reviews and awards around the world.
Pip's mum died slowly from Alzheimer's, this is a moving and affectionate performance about its devastating effects; not only on the sufferer but family, friends and carers. A journey full of smiles, laughter, love and tears.
International Theatre Institute award for Impact on World theatre;
Stage Special Award for Excellence 2015.
Best of the Fringe, Bedford Fringe 2018;
Outstanding Theatre Award 2018: Fringereview
Lifetime Achievement Award for Contribution to world monodrama, Turkish Ministry of Culture
"under Utton's costume stands a national treasure." Three Weeks
8.10pm. Sat 9 Nov. Adult. 60 min
Passes for Multiple Shows
CLICK HERE

---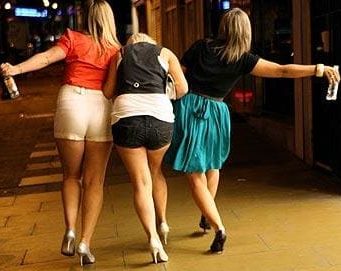 Olivia Nicholson: Hens
The demise of a bride in Benidorm – a comedy (ish)
A hen do, a coming together of women to celebrate the bride's last days of freedom. But how do you tell the girls that you HATE them?
Oh that's easy, with tequila of course! The girls are 'out out' and each one is trying to escape from the shit that's going on back home: A teacher on stress leave,
a conspiracy theorist, a divorcee, a social media addict & a really sad & skinny…bride.
Developed on the Grow Your Own Solo Show Course
& with direction from Jonathan Brown
"A lot to like in the frenetic energy" The Reviews Hub
"…to watch out for in the future."  A Younger Theatre
9.30pm Sat 9 Nov. Adult 60 min
Passes for Multiple Shows
CLICK HERE
---
DAY 3 – Sunday 10th Nov
EARLY BIRD EXTENDED TO MIDNIGHT 28 Oct 2019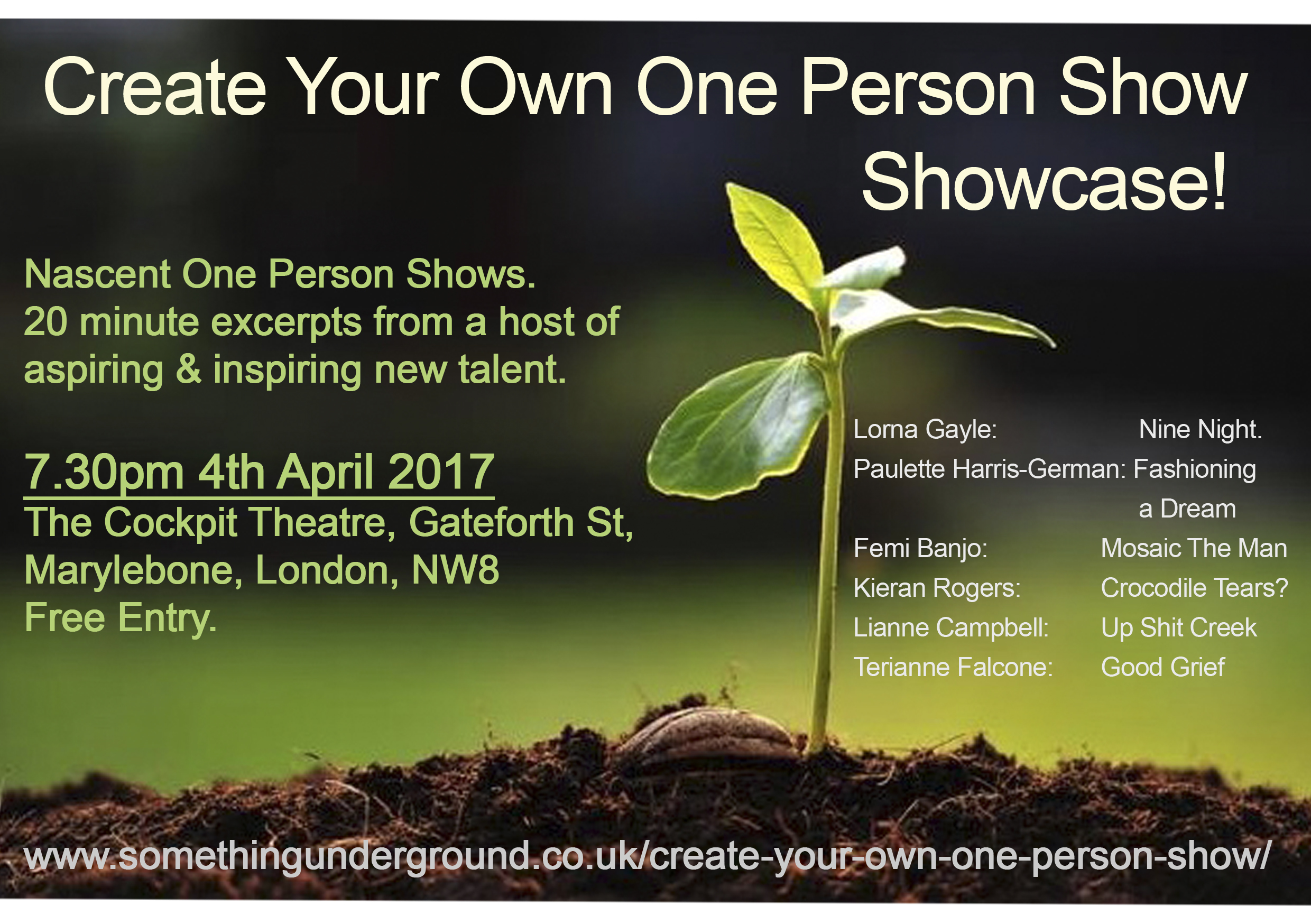 Grow Your Own Solo Show Course Showcase:
London Participants Showcase
FREE
Come and give your feedback.
12.10pm… Sun 10th November. 14+
5 Performers bring to you their Nascent One Person Shows.
5 x 20 minute (ish) excerpts from aspiring and inspiring new acts, all part of the "Create Your Own One Person Show" course, run by Jonathan Brown of Something Underground Theatre Company.
http://www.somethingunderground.co.uk/create-your-own-one-person-show/
Frankie Williams: Hot Mess
If the City of Dreams can't help her, then who can?
Heartbroken Welsh runaway Bonnie waits eagerly for her cousin to arrive back in London during an unforgiving heatwave; whilst battling with her conscience, her insecurities and her new 'annoying posh bird' flatmate.
—————-
Sian Rose Bennet: U N M U T E D
Female? Mostly.
Thirty? Apparently.
Lost? Mainly.
Funny? Hopefully.
Single? Trying to be.
Trauma? Literally.
Career? Slowly.
Autistic? Arguably.
Happy? I found the key.
Really? Yes. I'm happy.
Why? Come see.
Through humour, music and multimedia Lily shares her unique journey of finding true happiness; singing and moving her way through memories and the fucked up world we live in today.
——————
Nuria Calucho Junca: A – muse – in – dreams
Minds sense it but they can't see it…they have to go for it regardless.
Our historic muses were once dreamers…but times have changed. A bit of laughter and sorrow is the cocktail of this story
——————-
Denise Alonzo: THREE WOMEN
Three historic female icons, three diverse lives; what would they say or sing if they were alive now?
Joan of Arc, Cleopatra, Rosa Parks. A saint, a queen, a civil rights activist or [Three diverse historic icons ] speak their minds in this humorous extravaganza of opera and dialogue. Liberated from confines of time, now they let rip.
——————-
Bernie Barrett: Little Girl
When your name is Glad, but your life seldom is.
Try as she might she couldn't care for her little girl, Norma , (named for Norma Talmadge and Jean Harlow.)
Please come along and support these brave people who are stepping up alone on to the boards to bring you their new work. Be ready to offer constructive feedback at the end.
FREE. No tickets required
Doors 12.00 noon. 12.10pm prompt start.
---
Jonathan Brown: Happy Hour
It's more than an hour, and it's not always happy.
A dark comedy…
One man's odyssey, to save his son and his own sanity,
from the sinister forces he's exposed them both to.
Bernie wants his pub to be "child friendly", a party atmosphere, a sort of… Santa's Grotto, with himself as Father Christmas. But he's so busy making his dream come true, that his own ten year-old son, Teddy, doesn't get a look in. Blind to his son's need for love, his wife's need for moderation and his best friend's need for honesty, Bernie sails his prized ship, The Toby, directly and decisively, onto the rocks. Funny, full of laughter, moving, disturbing, poignant, and emotionally satisfying.
One man's odyssey, to save his son and his own sanity, from the sinister forces he's exposed them both to.
    5 Stars. (Latest 7)
4 Stars (Fringe Review)
4 Stars (Three weeks)
 Directed by Denise Evans
BEST ACTRESS (nom) Liverpool Daily Post & Echo Awards for A View From the Bridge
BEST ACTRESS (nom) Manchester Evening News North West Theatre Awards for Decadence
BEST ACTRESS NSDF Sunday Times Theatre Awards for Decadence
Director of "Memoirs of a Hermaphrodite" and many more.
1.30pm.  Sun 10 Nov.  14+  2hrs inc. an interval.
www.somethingunderground.co.uk/licence/
Passes for Multiple Shows
CLICK HERE
---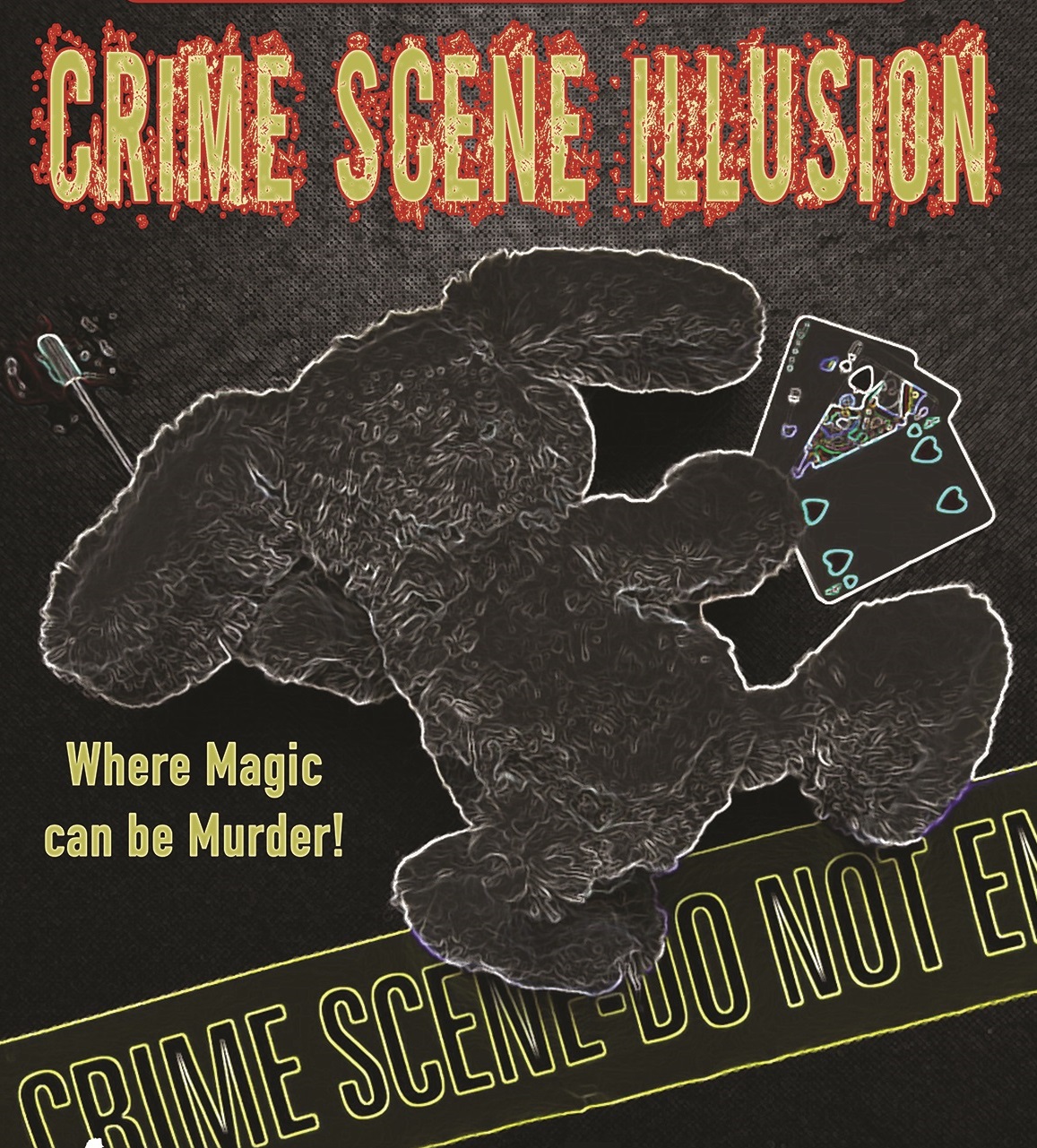 Tracy Wise: Crime Scene Illusion
Magic can be Murder
Crime Scene Illusion weaves together the worlds of forensic investigation and magic into an innovative, entertaining and creative show. What secrets does your handwriting hold? How reliable is your memory? How can you tell if somebody is lying? How can blood patterns help to solve a mystery? The answers may surprise you. The show certainly will.
First Brit & First Female to Win! 'The Hex Factor' 2019
"Hypnotic & magnetic performance" Reece Shearsmith, Actor
"An innovative combination of forensic science & magic." Voice Magazine
"Its rare to see a magic show with such a clear sense of purpose, or a magician whose so comfortable with a high-concept theme. I enjoyed it immensely and if you've ever lapped up a police drama, I'm sure that you will too. ….a clever genre mash-up, satisfying, well-executed, impressive. Fringe Guru
3.50pm Sun 10 Nov. Family (12+) 60 mins
www.crimesceneillusion.co.uk
Passes for Multiple Shows
CLICK HERE
---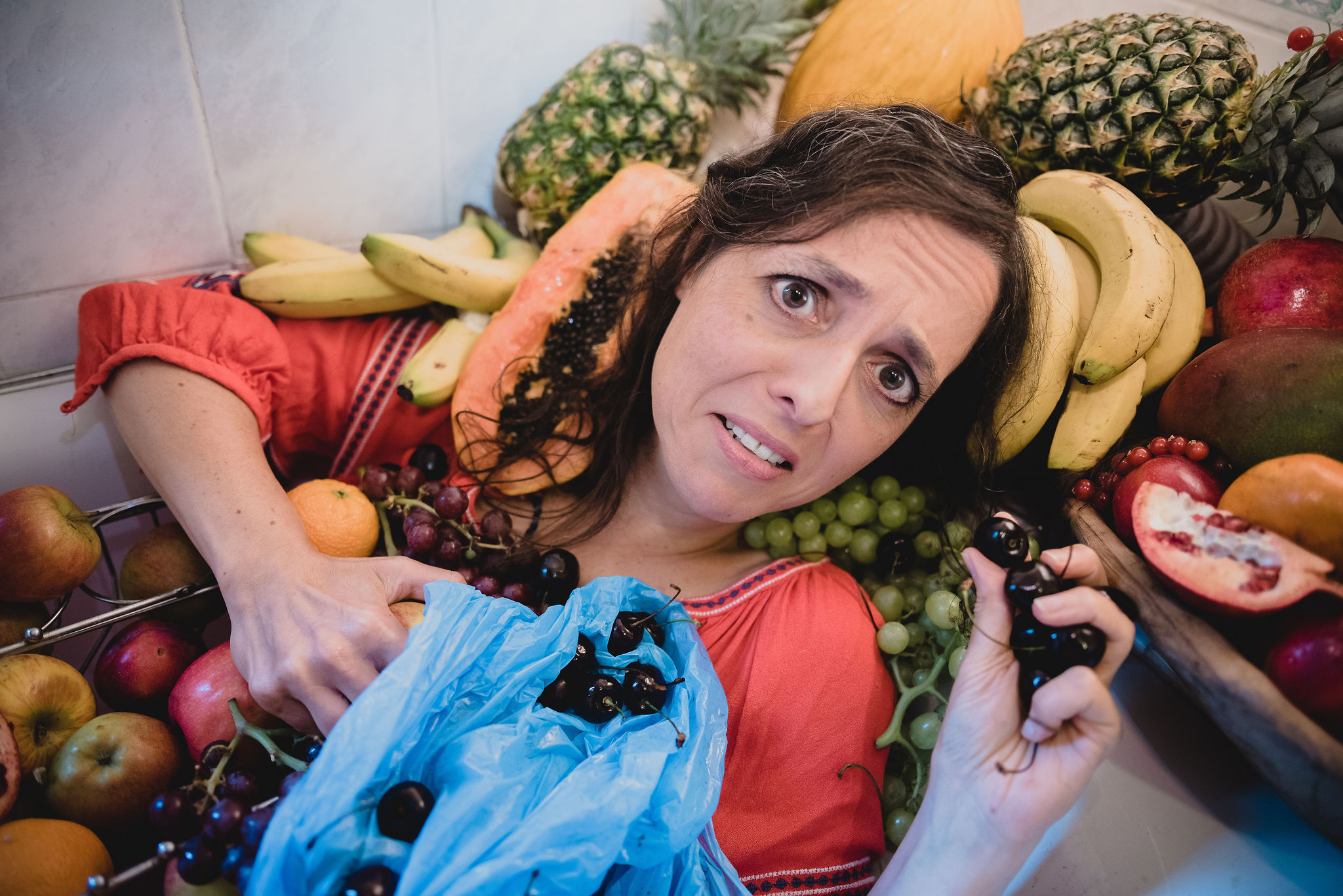 Three Shorts in One
5.10pm Sun 10 Nov. Adult. 60 mins
1: Denize Levett:  Fruit
When 5 a day is not enough
A fruity tale that takes you from a Mediterranean island to a northern greengrocers. Growing up in London as a child of immigrants Zarah attempts to understand her identity. Twitter: @denizelevett
Instagram: denize1970

2: Giulia Menichelli: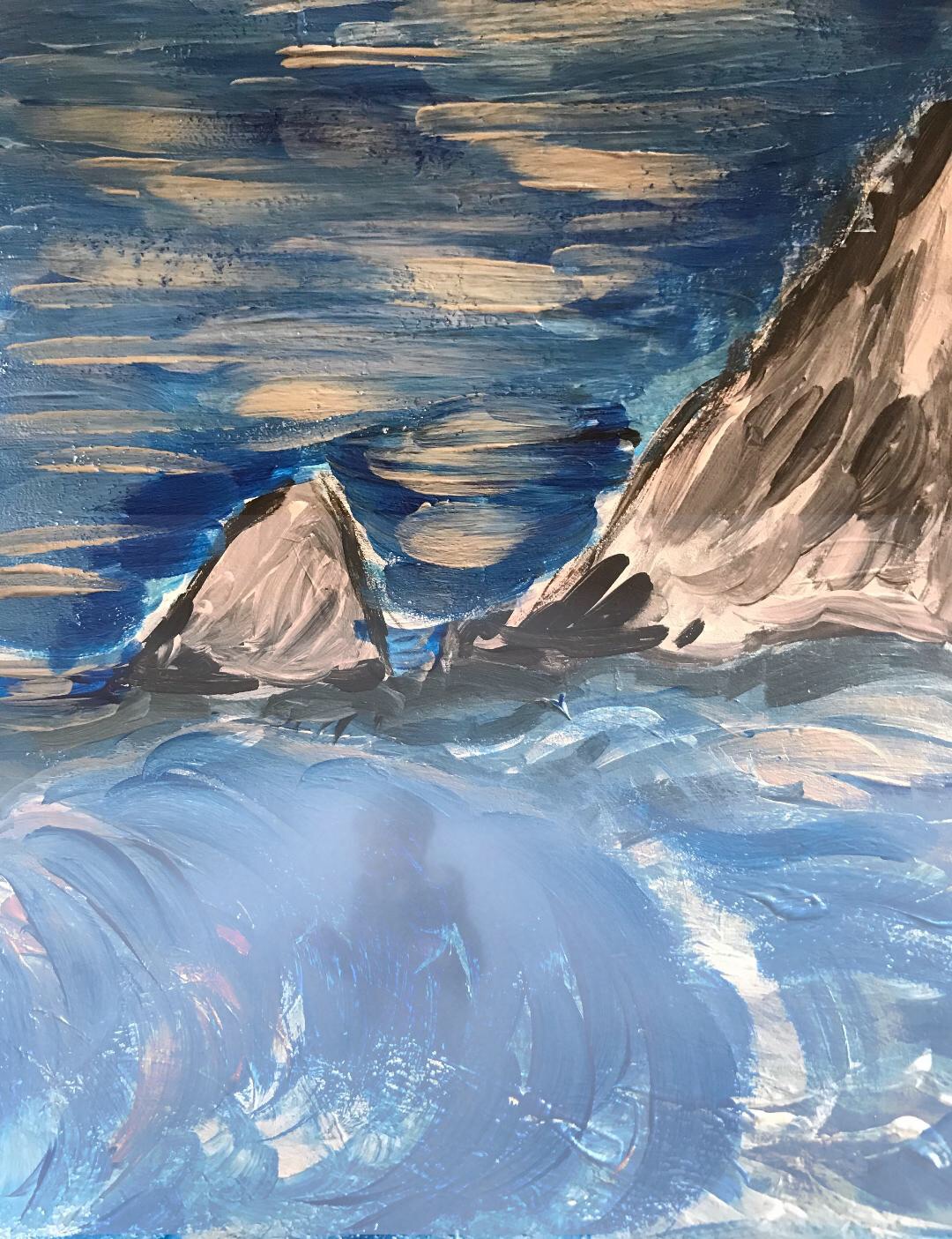 When I Call Your Name
A light beyond the sea
A roaring sea screams vividly at Anna.
From its bottom a familiar and lost face emerges, helping her in the attempt to recover from a traumatic experience.
(NB: A snippet of a longer piece in development)
And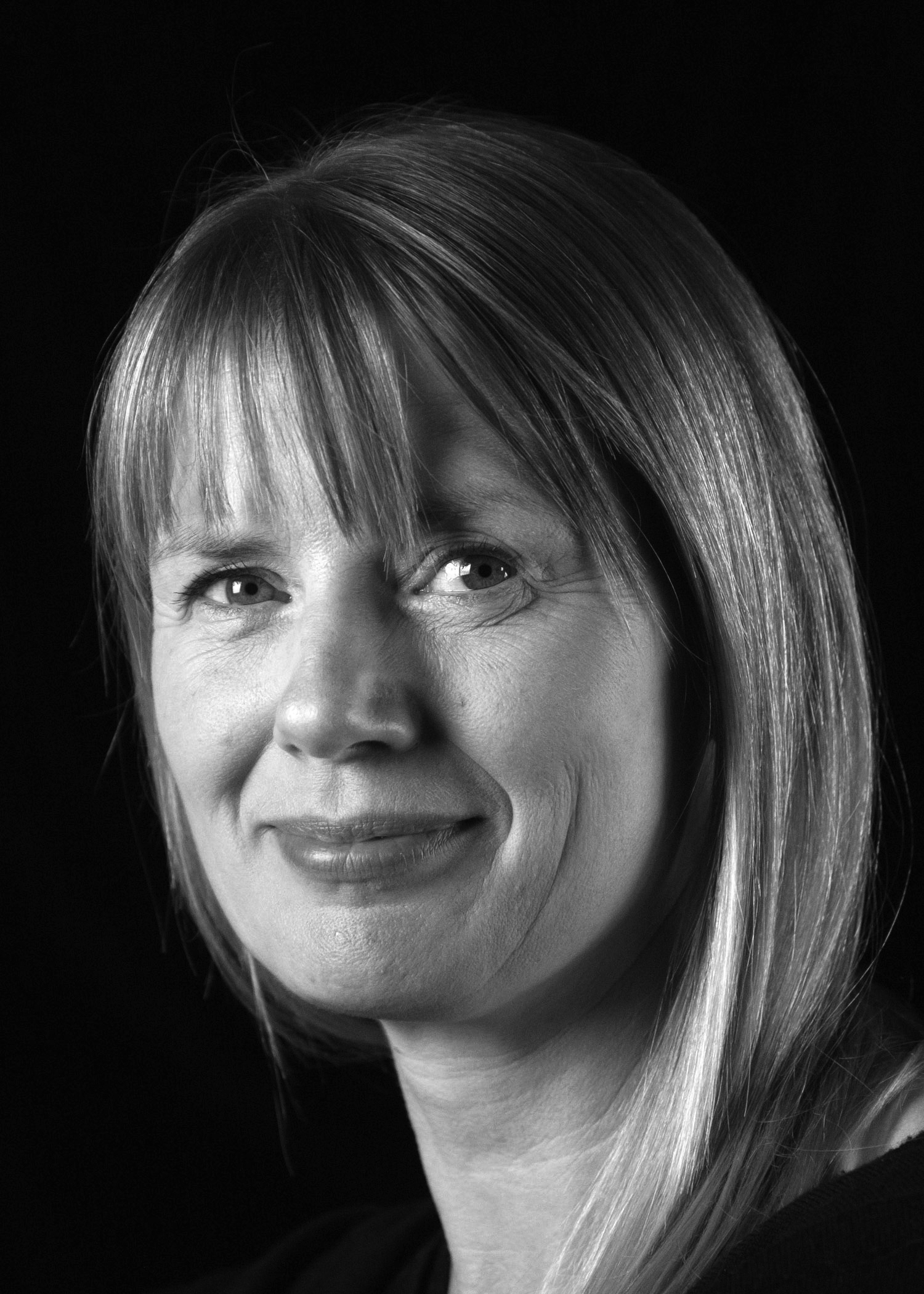 3: Kristy Howell: Embracing Nature
A sound journey through local land
Kristy takes you ever-so-gently by the ear, & leads you through the wilds of Lewes.
THIS COLLECTION STARTS at:
5.10pm Sun 10 Nov. Adult. 60 mins
Passes for Multiple Shows
CLICK HERE
---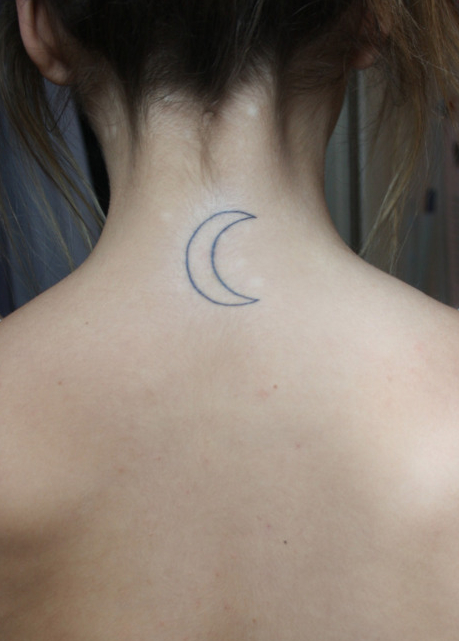 Kate Darach: Moon Tales
Thirteen Lives, Under One Moon.
Thirteen full moons & a woman representing each. Raw, funny, sad & sexy, these voices
from across different backgrounds, places & eras capture the diversity & commonality of
the female human experience.
Argus Angel Award for Artistic Excellence,
Brighton Fringe 2015,
Commissioned & developed for the Women's Voices Season @ The Old Market 2016
6.30pm Sun 10 Nov. Adult. 60 mins

Passes for Multiple Shows
CLICK HERE

---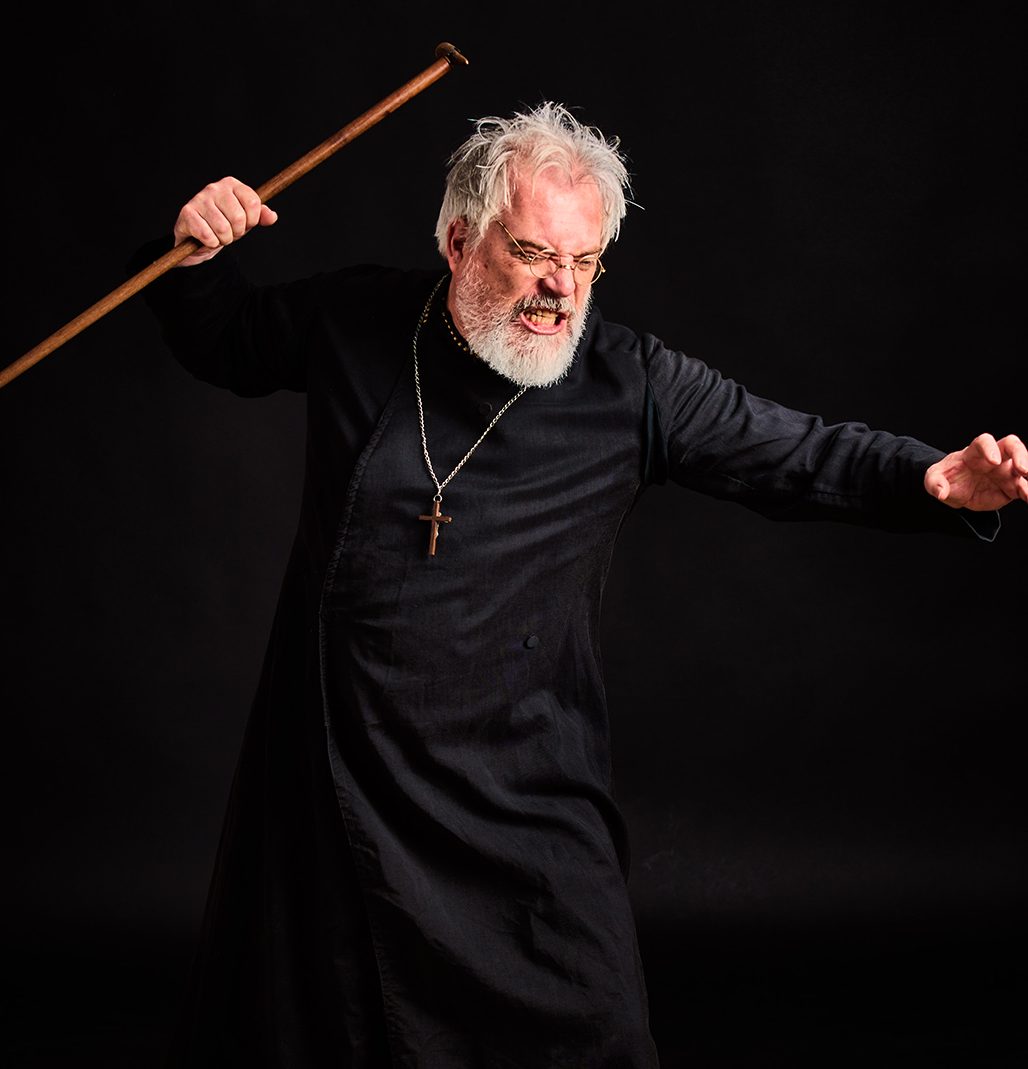 Daniel Finlay: Damien
Story of Father Damien de Veuster, leper priest of Molokai, patron saint of outcasts
Passionate account of the challenges Damien experienced serving the community of exiled lepers on a remote Hawaiian island in the 1870's.
5 Stars! Fringe Guru
5 Stars! Remote Goat
Must See Show! Fringe Review
7.50pm. Sun 10 Nov. Adult. 75 min
Passes for Multiple Shows
CLICK HERE

---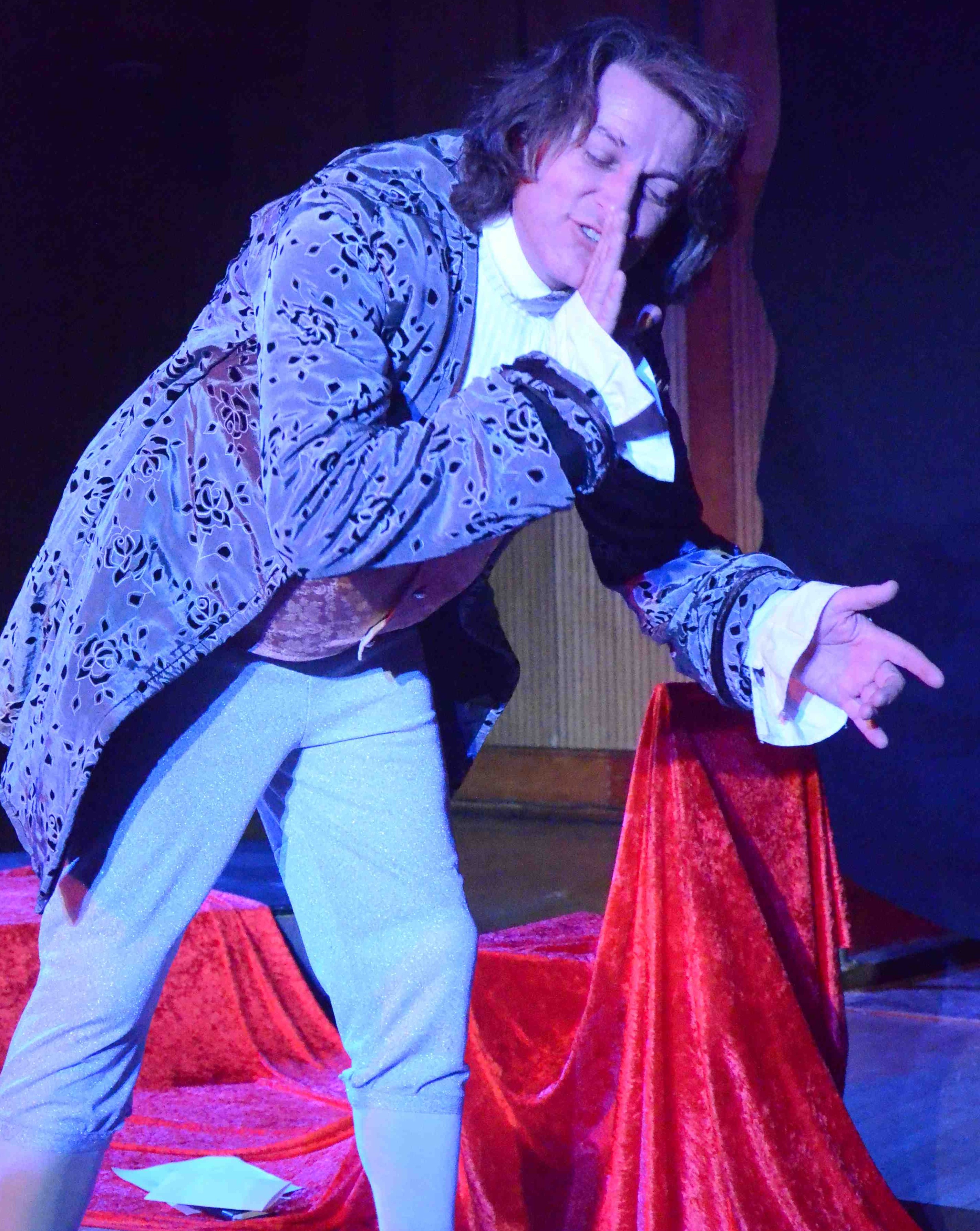 Jonathan Brown: The Silent Stream
The Prince Regent clashes with early eco-activists!
George is a king in waiting. Kept to the wings and given no role by his pious, over-controlling and distant father he turns to A life of hedonism. Cavorting, women, building, gambling, driving, drink and laudanum all become close to his heart,
Winner: Best Male Performer, Brighton Fringe 2013 ("The Silent Stream")
Shortlisted Best New Play, The Brighton Fringe 2013.  ("The Silent Stream")

"…a must-see ….. his performance is very accomplished, bringing to life the showman for a 21st century audience. This is a royally good show, created by someone who clearly loves the city of the current and the past in equal parts."
The Brighton Argus. May 2013.
"You are a great performer, able to play to the strengths of the script, … clever and funny. Well done! A tour de force of a performance!" Sara Clifford, Playwright
"… the captivating vitality of Brown's multifaceted performance transport us… .presented confidently & honestly. Vast emotional range is reached. A fantastic insight into the Fringe's host city;
Brown shines in his convincing depiction…" Broadway Baby. May 2013
9.20pm.  Sun 10 Nov.  14+  75 min
www.somethingunderground.co.uk/the-silent-stream/
Passes for Multiple Shows
CLICK HERE

---
TICKET OPTIONS NOW READY:
If you buy one of the multiple Show Passes,  you've still got one more step after purchase.

!!!!PLEASE REMEMBER!!!! TO **SPECIFY WHICH SHOWS** YOU WANT ON YOUR PASS!    HOW?? READ ON….
Following your purchase(s):
1: Using the email sent at time of purchase, with a link in Section 1 to the confirmation page, locate that Confirmation page for your purchase.
2: Locate the "Pass Management" box
3: Under Reserve Tickets, select the first SHOW you'd like to     attend.
4: Continue through the reservation selections until you've selected the number of shows your pass allows you to attend.
***NB: This (admittedly rather dull) process ALSO applies even for the BIG WEEKENDER PASS – but it works to ensure no double booking of seats..***
5: Once complete, the reservations will appear under Tickets Reserved with this Pass
6: If you'd like to edit your selection, click Remove and begin again. You can do this as long as there remain unsold seats for any new show you choose.
Your name will now appear on the will-call list for each event that you have selected and reserved tickets.
Any questions, please get in touch. Info line: 07934 175570  / EMAIL
EARLY BIRD EXTENDED TO MIDNIGHT 28 Oct 2019


Single show ticket (see individual listings)
=

£

10 / £8 Concs / £5 Students
Three's Company Pass

  = Any 3 shows:


£26 Standard (

£

22 EARLY BIRD) /

£

21 Concs

(£18 EARLY BIRD)

/

£12 Students (£10 EARLY BIRD)
The 6 Pack! Pass =  Any 6 shows
 £48 Standard (£40 EARLY BIRD) / £36 concs (£36 EARLY BIRD) / £20 Students (£17 EARLY BIRD)
The Magnificent 7! =  Any 7 shows
£55 Standard (£46 EARLY BIRD) / £40 concs (£34 EARLY BIRD) / £23 Students (£19 EARLY BIRD)
The Big Weekender! = All 14 shows
 £84 Standard (£70 EARLY BIRD) / £69 concs (£58 EARLY BIRD) / £45 Students (£38 EARLY BIRD)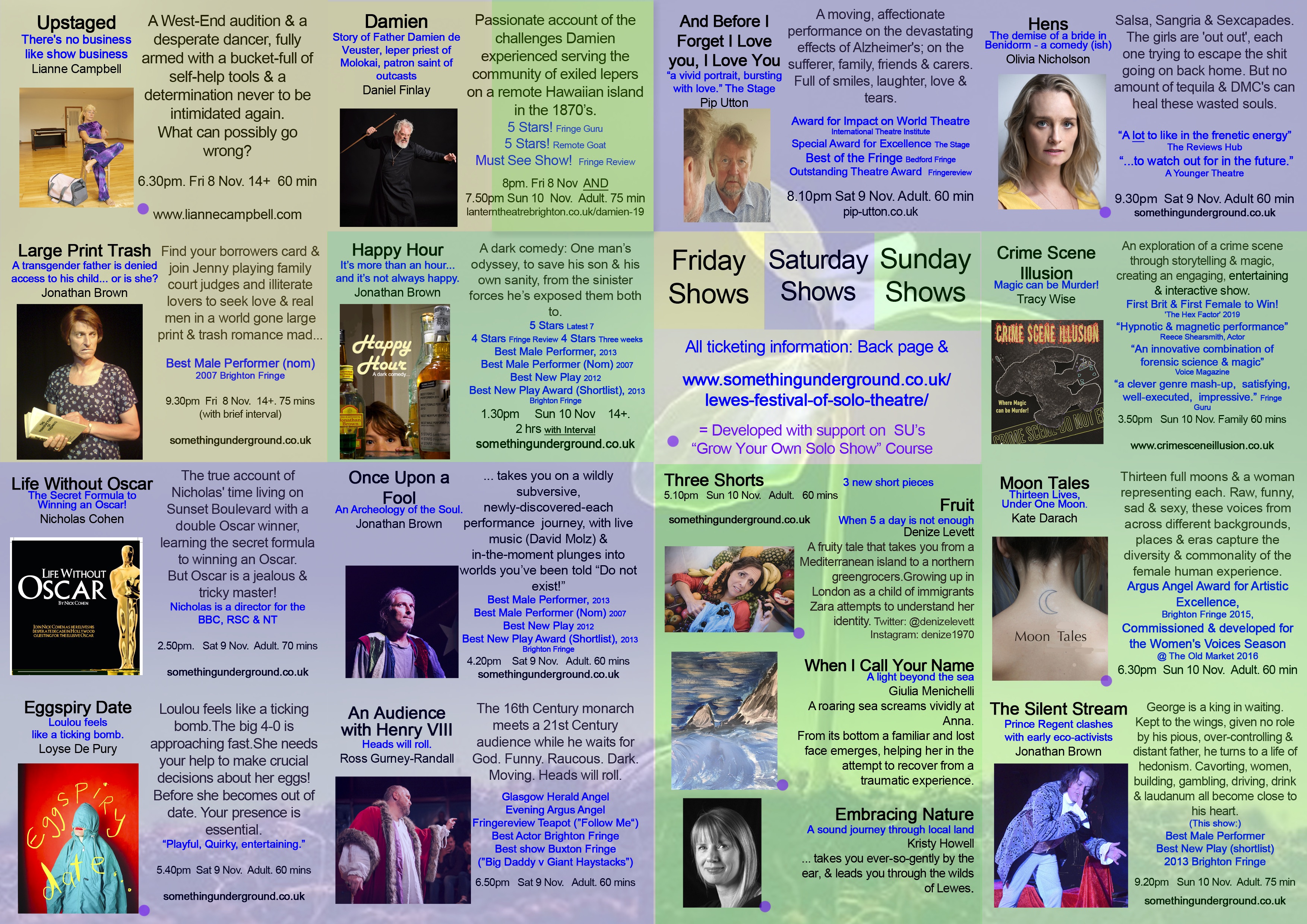 Preview from GScene (Brighton) Here


Press Release below
Alone on a Busy Stage
They say everyone's got at least one novel in them. But for actors it's closer to being a Solo Show. Lewes is home to award-winning Something Underground Theatre co, and Jonathan Brown, it's artistic director has been creating solo shows since 2006, and has mentored many successful and award-winning acts.
Now Something Underground and Lewes are together playing host to the first Solo Show Mini-Festival, happening the weekend after the reverberations of the early November fireworks have died down, and in the lovely building of Lewes New School.
Many shows in one weekend is what the billing boasts, from doyenne of the genre Pip Utton's show "Before I forget I love you, I love you" to award-winning Ross Gurney's "An Audience with Henry VIII", Kate Darach's "Moon Tales", an Argus Angel Award-Winning collection of 13 women's stories, the highly acclaimmed "Damien" by Daniel Finlay (son of actor Frank Finlay), plus "Life Without Oscar", a tale of Hollywood wannabe's with RSC, NT and BBC director Nick Cohen, to some of Brown's own award-winning plays, including "The Silent Stream" (Best Male Performer Brighton Fringe), Happy Hour and Large Print Trash (Best Male Performer (nom) Brighton Fringe).
Several of the shows have been developed on SU's "Grow Your Own Solo Show" Course and we'll be having snippets from these shows too, alongside shorts and whole shows from previous graduates. The course has been running since 2012, and runs again in Lewes & London in Sept/Oct this year.
Says Jonathan, "The Sussex area has a lot of talent, which in November's Solo Show miniFest is going to be further augmented by brilliant acts coming from London or further afield. As I've seen more and more brilliant work, deciding to run a Mini-festival of Solo Shows in the town was beginning to feel like a no-brainer, and it's something I've been mulling for several years, partly inspired by The Arundel Theatre Trail, and by Winchester's Hat Fair, though both are very different beasts. There'll be reduced-cost "Passes" too, to enable you to see several shows.
We're going to have 14 One-person shows, most about an hour, over the weekend,… and what is remarkable is the number of people who, having seen their first solo show, become utter evangelical converts to the genre.
That's invariably because, rather than in an ensemble play, whereby an actor might rely on others to carry the performance, a one person show performer, because they've no one else to hide behind, invariably has to have such incredible energy that they inhabit the whole stage, bring an entire world to life, fully populate the story, and single-handedly transport the audience with their sheer presence and talent. Because there's no hiding, you invariably get performers who know their game and how to bring a place alive.
The audience are also far more engaged, as one person pieces often include acknowledging the presence of the audience, connecting with them, not necessarily in what some might consider rather scary "audience participation", but simply by turning to them far more, recognising that this genre is more about facing and talking to your audience, than the "fourth wall" style that most theatre is accustomed to presenting."
When: Fri 8th November – Sun 10th November 2019
Where: Lewes New School, Talbot Terrace, Lewes.
Cost: Individual shows: £10, plus various "Season Passes" & deals on seeing several shows.
More info & Advance tickets:
https://www.somethingunderground.co.uk/solo-show-minifest-2019-lewes/
Contact: mail @ jonathan-brown.co.uk
Info line: 07934 175570
Insta: somethingundertgroundheatre